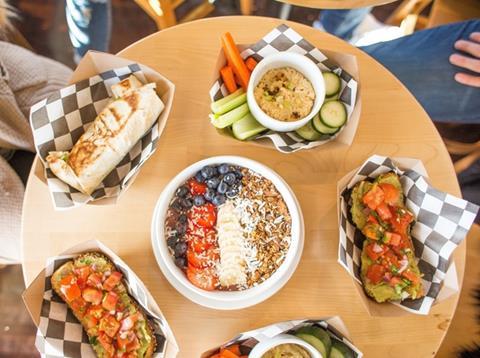 If a spate of recent surveys are to be believed, almost 10% of the British public will be vegan by the end of this month.
Yesterday, discount website VoucherCodes predicted 2.7 million Brits would ditch meat and dairy as part of their new year resolutions. Add that to the 3.5 million who are already vegan, as claimed by Compare The Market last April, and it brings the total to just shy of 10% of the UK's best guess population estimate of 64.5 million.
Millennials and the even younger Generation Z are leading the drive to ditch animal products, according to VoucherCodes. In fact, young people will be going without an awful lot in 2019. According to that same survey, at least. Half have cut back on spending, with dating the first area to get the chop, while one in five have stopped going out on dates altogether, it claimed.
It's a bleak picture, seeing millennials postpone buying property, starting a family and ultimately unable to cheer themselves up with a KFC. Instead, they'll be opting for some Popcorn Cauliflower or dairy-free Ben & Jerry's to drown their sorrows.
The robustness of those predictions is, as ever, up for debate. Tellingly, the charity running Veganuary forecasts a more modest 300,000 of extra participants in Veganuary this January.
Still, the growing momentum behind the plant-based trend is undeniable – which makes the stony indifference towards the trend at today's Oxford Farming Conference all the more remarkable.
Despite the floods of own-label NPD hitting supermarket shelves, and Greggs making waves this week (and offending Piers Morgan) by launching its first vegan sausage roll, you'd be forgiven for not knowing it was Veganuary at the conference.
The closest environment secretary Michael Gove came to acknowledging the rise of the vegan in his keynote speech was a vague dismissal of "crude attempts to label certain foods, meat and dairy, as somehow inherently unhealthy".
Cultured meat alternatives got similarly short shrift, as he dismissed lab-grown meats as "expensive" and "very far from everyone's idea of a mouth-watering treat".
Now, farming arguably has more pressing concerns than vegans right now. There's the imminent prospect of Brexit to contend with, the handling of which Shore Capital's Clive Black described as "a national and international embarrassment".
And Gove did engage on that point, at least, by warning a no-deal would have "turbulent" consequences for UK livestock farmers – a statement met with derision on social media.
Concern over Brexit also showed in the conference's poll, which found as many farmers were "apprehensive" about the future of farming as were "mostly confident". NFU president Minette Batters admitted a 2003 assertion by Labour MP Margaret Beckett that the UK could stop producing food and import it instead was still playing on her mind 16 years later.
"If we ever turn the food production tap off, we will massively struggle to turn it back on again," she warned.
But while Brexit is huge news, and a clear and distinct risk to Britain's food producers, farmers cannot afford to underestimate the potential risk from consumers ditching meat and dairy.
As the eyes of the UK's farmers are fixed on government and ongoing negotiations, vegan groups such as those behind Veganuary are making the most of the vacuum and taking the opportunity to engage with consumers directly.
The number of UK vegans may not be anywhere near that 10% mark yet, but it's growing – and pretending that's not happening won't help meat and dairy farmers turn the tide back in their favour.