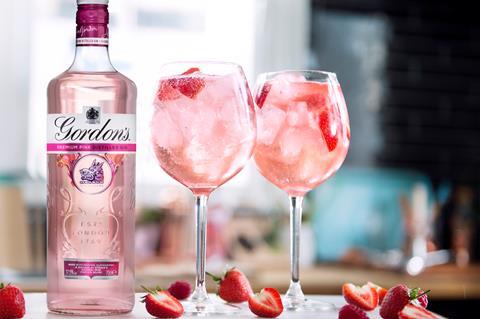 Gordon's Pink Gin is now worth more in grocery than the entirety of some big-name spirits brands, having experienced a £63m sales surge.

The Diageo spin-off, which launched in 2017, grew value sales by 82% to £140.3m over the past 12 months, exclusive figures reveal, meaning it is now bigger than Russian Standard, Bell's, Captain Morgan and other ­household names [Nielsen 52 w/e 10 August 2019].

Spirits was the best-performing sector of alcohol this year. The category grew by £155.5m to £4018.1m, a 4% gain [Kantar 52 w/e 14 July 2019]. The bulk of that success was down to flavoured gins, which dominated the supermarkets. The top five fastest growing spirits were all flavoured gins, with three of them launched just last year.
Whitley Neill's Rhubarb & Ginger and Parma Violet (a 2018 launch) were grocery's second and third fastest growing spirits, with gains of £16.5m and £13.9m respectively. They were followed by orange-flavoured Tanqueray Flor De Sevilla, which grew by £12.1m, and Beefeater's pink spin-off, which added £10.5m. Both made their debut last year.

Gin had "expanded into the flavoured market at an unprecedented rate, with brands like Gordon's Pink now purchased by the same number of households as Gordon's Original (7.5% penetration)," said Kantar analyst Amy Clark.

In fact, Gordon's Original - the UK's third biggest spirit and one of the best-performing brands of recent years - saw growth slow to 2%.

"While some may question the authenticity of flavoured gin, the expansion has ­undeniably boosted the overall sector," said Clark. Some 36% of all gin shoppers now only bought flavoured variants, she added.