Many fmcg manufacturers are stuck between rising input costs and pressure from retailers for discount pricing. There is a real danger of a "race to the bottom", characterised by spiralling discounts, reductions in brand and product investment, product commoditisation and reduced consumer choice (see image).

However, there is evidence that consumer buying behavior may be migrating away from the indiscriminate search for the next deal. More efficient promotional strategies can deliver improved economics for manufacturers and retailers, while allowing them to rebuild value into categories and re-engage consumers with stronger brands and better products.

This reality was borne out by the recent experience of a UK condiments manufacturer, which, advised by Marakon, took steps to "re-base" its promotional strategy in partnership with its retail partners.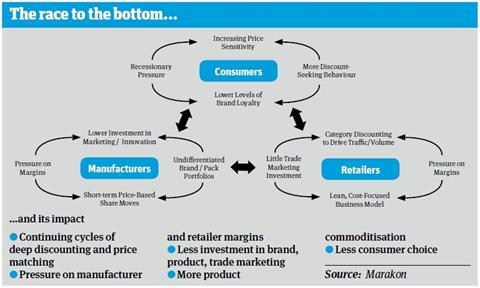 Consumer analytics demonstrated the company's brand remained ahead in equity terms from both its closest branded competitor and own-label competition. A consumer conjoint study showed that while headline price sensitivity was still relatively high, especially over "threshold prices" like £2, consumers didn't ascribe higher utility to deeper promotional mechanics, such as £1 deals.

These findings allowed the manufacturer to propose a promotion optimisation strategy, which led to a material reduction in volume sold on deal but resulted in a gross margin improvement of 7.5% - together with improved economics for retailers. The re-basing also set the stage for product and packaging improvements in subsequent years.

While some investment was needed, the returns made it more than worthwhile.