Cleaning is the new cool. Or so goes the mantra of the growing army of people polishing their sinks, collecting Zoflora fragances like they're perfume and calling their dusters Dave. We're talking about cleanfluencers – a social media community that loves nothing more than streaming themselves scrubbing their toilets and washing their floors on Instagram.
View this post on Instagram
The leader of this movement is none other than Sophie Hinchliffe, aka Mrs Hinch (above). She's the ex-hairdresser who began filming herself while cleaning her home in early 2018. This simple idea has amassed legions of fans (2.4 million on Instagram) who mimic every wipe of her cloth and start cleaning conversations on their own accounts – her so-called #hincharmy.
To say Mrs Hinch's fans are dedicated would be vastly understating the situation. A quick scroll down any of her favourite hashtags reveals everything from cakes decorated with edible Zoflora bottles to bizarre Hinch-themed manicures complete with fluffy dusters.
Her influence is so strong that a whopping 60% of people who have heard of her say they'd buy something purely on her recommendation, according to exclusive research for The Grocer by Harris Interactive.
So what's behind this Hinch hype? Who's benefiting? And which micro-trends should brands and retailers have on their radar to cash in?
For Unilever, it's all down to psychology. "In times of uncertainty, we know people often want to feel closer to their local community," says Gemma Cleland, Unilever UK & Ireland vice president of home care. "That can see them choosing to spend more time at home and, as a result, become more house proud – turning to the likes of Mrs Hinch and the other cleanfluencers for inspiration. We see people retreating to the comfort of their home, switching clubbing for cleaning."
According to our research, social media is fuelling this cleaning mania. Almost 30% of people say that social media makes them clean more regularly and 31% say it makes them buy more cleaning products.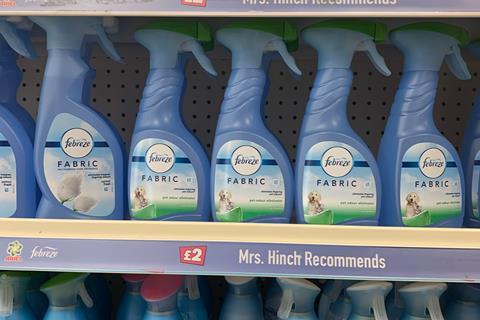 For brands lucky enough to feature on these social media posts, it's in essence a free marketing tool. "From a marketing perspective there is nothing more powerful than word of mouth," says Astonish Cleaning Products' head of marketing Katy Clark, who saw sales increase by 15% across the business last year after Mrs Hinch endorsed products including its Mould & Mildew Blaster. "Mrs Hinch personifies real people telling you about real cleaning problems and solutions."
Which products have endorsement from Mrs Hinch?
The sheer reach of Mrs Hinch is evidenced by her high follower count and engagement rate on social media.
Done a bit of research + @mrshinchhome has the HIGHEST authentic engagement rate I've ever seen in a 'none celeb' influencer. HypeAuditor shows:
*93.6k authentic engagements Per POST
*94% of followers are highly engaged
*NO paid or fake following

Not all influencers are fake👏 pic.twitter.com/fRm75F423S

— Ellie Wray 🤓 (@EJTordoff) May 14, 2019
Brands that have received the 'Mrs Hinch treatment' can testify to the impact on sales. Vileda has seen a 98% increase in value sales of its spin mops over the past year. Sales of The Pink Stuff have rocketed 350% in the past six months, according to owner Star Brands. Unilever says sales of Cif Stainless Steel have grown by two thirds following Mrs Hinch backing. And Zoflora has had to invest in a multimillion-pound manufacturing and packing facility in order to cope with increasing demand.
Here are the products that have been given the Hinch seal of approval: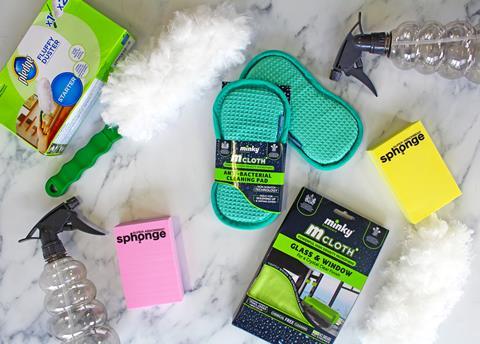 Tools
Pledge Fluffy Duster – SC Johnson
M Cloth Cleaning Pad – Minky Homecare
M Cloth Glass and Window – Minky Homecare
Thick Moppets – Spontex
Microfibre Kitchen Set – Spontex
1-2-Spray Mop – Vileda
Sph2onge – Sph2onge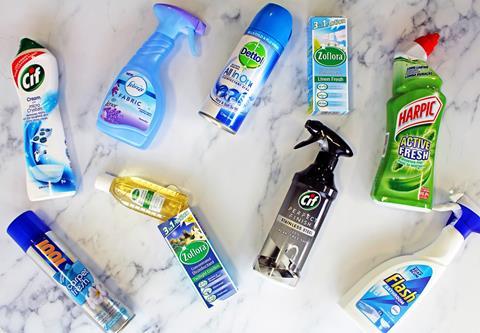 Cleaning products
Zoflora – Thornton Ross
Cif Stainless Steel – Unilever
Cif Cream – Unilever
1001 Carpet Fresh – WD-40 Company
Febreze Fabric – P&G
Dettol All In One – Reckitt Benckiser
Harpic Active Fresh – Reckitt Benckiser
Astonish Germ Clear Disinfectant – The London Oil Refining Co.
Mr Sheen Multi Surface Polish – Reckitt Benckiser
Flash Bathroom with Febreze – P&G
Lenor Fabric Conditioner and Tumble Dryer Sheets in Spring Awakening – P&G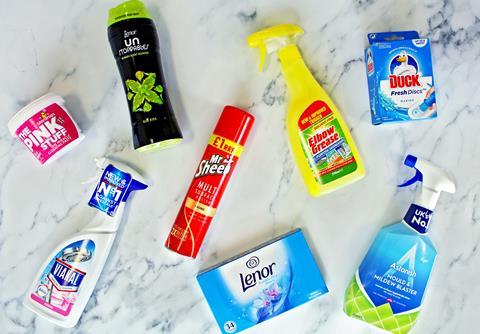 Cleaning products (cont)
Elbow Grease – 151 Products
Astonish Mould & Mildew Blaster – The London Oil Refining Co
Viakal with Febreze – P&G
Stardrops The Pink Stuff – Star Brands
Mr Sheen Multi-surface Polish – Reckitt Benckiser
Lenor Tumble Dryer Sheets – P&G
Lenor Unstoppables – P&G
Duck Fresh Discs – SC Johnson
Which retailers are benefiting from the cleaning boom?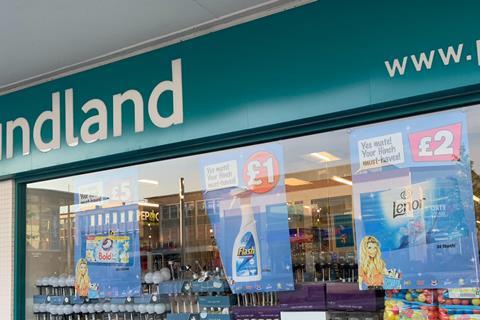 The giants are largely missing out on the Mrs Hinch effect. Household sales are down in three of the big four and flat at Morrisons [Kantar 52 w/e 7 October 2018].
Meanwhile, discounters and specialist retailers are cleaning up. Aldi and Lidl saw double-digit gains of 17.8% and 13.3% respectively and though Poundland was unable to reveal sales figures, it has also recorded a spike in interest within household.
"Cleaning influencers have made the category 'sexier'." says a Poundland spokeswoman. "They've allowed us to inject more fun into the category and be more creative and innovative with products and displays"
Also thanks to the Hinch hype, online household and healthcare wholesaler Easho's Instagram followers have grown to over 200k since it set up shop in 2017.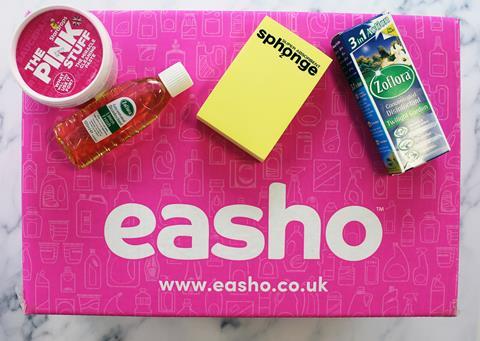 "We are a female-founded company, disrupting the archaic and traditional wholesale model by creating a consumer-facing lifestyle brand experience predominantly targeted towards the female shopper," says Easho co-founder Sonya Chatwani.
"Over the last six months we have experienced a significant increase in the number of our customers who organically choose to post about their shopping experience with us including photos of the products they have bought alongside our coloured boxes."
Which microtrends should retailers be aware of?
There are four smaller household trends that we can associate with the cleanfluencer movement:
Hauls
Pine scents
Grey
Wax melts
Hauls
View this post on Instagram
Showing off a #HinchHaul is an initiation ceremony for the cleanfluencer community. The hashtag is filled with users showing off the trolley's worth of cleaning products they've bought that day. Users will typically coo over the disinfectant bottles as if they were a newborn, with heart eye emojis and comments such as "so beautiful" and "wow, heaven". They're also fans of posting their "Narnias", aka the cleaning cupboard (pictured). So any in-store activity that can make these hauls an easy shop is likely to attract fans.
Pine scents
View this post on Instagram
Though pine is better known as a car air freshener, having the continued endorsement of Mrs Hinch has boosted its popularity in the cleaning aisle. She's such a fan, instead of saying she's cleaning her toilet, she says she's "pining" it. Expect to see more forest and pine-scented cleaning products hitting shelves.
Grey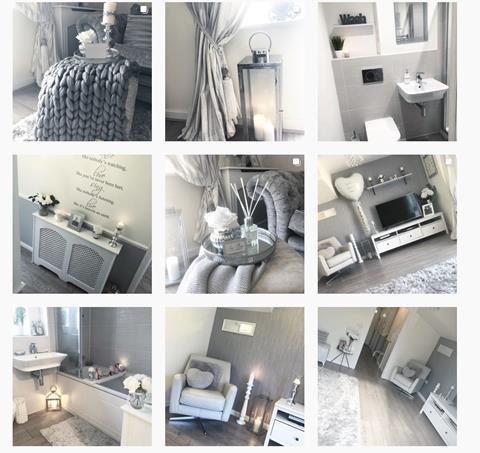 The cleanfluencer community keeps very staunchly to a grey and silver décor palette. Though you may wonder how this applies to cleaning products, Minky has already capitalised on the trend by bringing out a grey M-cloth – which crashed its site and sold out within hours of appearing online.
Wax melts
Beyond cleaning, Hinch has also kicked off a wax melt obsession across the country – Google searches for them have been surging since 2016. For those unfamiliar with wax melts, they are chunks of scented wax that are placed on top of tealight burners, allowing the user to cocktail fragrances together and/or change fragrances more regularly than they would with one large candle.
And, unsurprisingly to Hinch fans, 'Zoflora wax melts' is also now a breakout trending search term.
In partnership with


Ellis looks after the day-to-day running of thegrocer.co.uk and The Grocer's social media channels, alongside creating and co-ordinating digital content.
Ellis joined The Grocer and moved south in 2015 after working as a local news reporter in her home town of Glasgow. Ellis doesn't work on a particular patch, and you'll find her writing about a vast range of topics across the universe of food and drink, but she specialises in own-label, culinary trends and internet food culture.
Follow Ellis on Twitter: @ellishawthorne
View full Profile