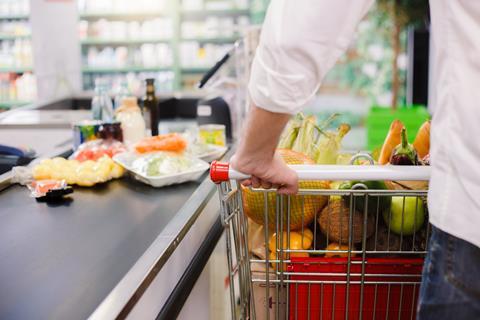 Shoppers bought almost £1bn extra groceries in the third week of March, marking the highest year-on-year uplift seen during the coronavirus outbreak.
Grocery sales reached a total of £3.2bn in the week ending 21 March – just shy of the amount spent during the peak week of Christmas 2019 – as the UK locked down and fears over coronavirus intensified.
That figure is 43.1% higher than the same period the year before, the sharpest increase Nielsen has measured since the coronavirus outbreak began in the UK.
"We had the lockdown, school closures, and food establishments and bars closed," said Mike Watkins, UK head of retail and business insight at Nielsen. "There was a realisation by the populus, in that they felt they needed to stock up for a few weeks. It wasn't a snowball effect – it was a dramatic avalanche of fear."
Buying habits changed in that third week of March, Nielsen's figures revealed. Rather than stocking up on ambient foods and store cupboard essentials, consumers turned to frozen food, which saw an 84% uplift in sales compared with the same period last year. Beer, wines and spirits also registered 67% growth as pubs and restaurants closed their doors.
Grocery destinations change
Nielsen's figures for the full month revealed that Brits had stockpiled by stealth, rather than piling their trolleys high with groceries. There were an extra 79 million shopping trips over the course of March, and the average shopping basket increased from 10 items to 11 items.
Nielsen revealed 42% of those extra shopping trips were to destinations outside the major mults, including the discounters, c-stores, bargain stores and independents.
"All the retailers have seen growth in penetration," said Watkins. "If consumers couldn't get pasta or toilet roll, they would go back the next day or to a different retailer. It was the need to complete their usual shopping basket."
Watkins forecast this behaviour would drop off in the coming weeks. "As British shoppers become more accustomed to what the quarantine means for their daily lives, and restricted living becomes the new norm, we expect to see shopping behaviour evolve to become more local as shoppers are unable, or unwilling, to travel further than is necessary for immediate needs such as fresh foods," he said.
Today, Aldi revealed it had eased buying restrictions in stores due to improved availability.