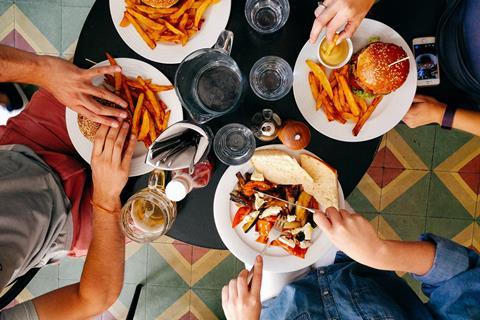 It seems half the nation woke up on 1 January vowing to cut out booze, embark on a gruelling exercise regime and eschew all animal-based foodstuffs.
But why do so many healthy new year goals zero in on abstention, punishing diets and manic fitness regimes? Thirty-one days of denial and self-flagellation to cleanse our bodies and souls after December's excesses, perhaps.
The vegan movement has hitched itself to January – a month now firmly associated with asceticism – for its Veganuary challenge. But for plant-based food brands to tap into the growing enthusiasm for meat-free produce, a more positive, less pious stance might make more sense.
There's no doubt that veganism, vegetarianism and flexitarianism are on the rise, and supermarkets have been stocking up to meet consumer needs. Meat sales fell by £184.6m last year (according to an annual review by The Grocer), but people cut back or completely abstain from animal protein for all kinds of reasons – their health, the environment, ethics, taste preference, faith… To respond to this growing and diverse group in a meaningful way, brands need to steer clear of worthy, elitist messaging and inject a bit of positivity. It's about what you are, not what you're not.
Some challenger brands understand this already. The Impossible Burger, for example, has positioned itself as the best burger in the world – not the best meat-free alternative. The company line is clear: 'We're no substitute. We've taken everything we know and love about meat and made it even better – using plants.'
Fast food outlets have spotted the opportunity to harness this growing consumer base too. Greggs launched its vegan sausage roll last January and has come out with a meat-free steak bake this time around. Even KFC has a vegan 'chicken' burger on the menu. Many vegans would never set foot in an establishment that produces real fried chicken, but if just a small percentage of the world's fast food consumers went meat-free now and again, it would probably have a greater impact than all the vegan brands put together.
Burger King's new Rebel Whopper takes this a step further. It is 100% plant-based, but because it's cooked on the same griddle as the chain's meaty offerings, it isn't vegan or veggie. Instead, it's aimed unapologetically at people who eat meat and are cutting back.
If vegan brands really want to ride the zeitgeist and maximise their potential, they need to recognise this new broader market. 'True' vegans may want to stand apart and be acknowledged as a separate group, but it's the flexitarians who will drive the plant-based-eating revolution. They're also paving the way for people who see veganism as expensive and complicated. KFC, McDonald's and Burger King, etc, are nothing if not easy and affordable.
For brands like Quorn, 10 years ago its target customer would have been a vegetarian. Now, according to departing CEO Kevin Brennan, 75% are meat reducers.
But responding to the needs of such a diverse demographic is complicated, which is why the right brand and packaging strategy is so important.
Losing the 'no pain, no gain' mentality is half the battle. Transparency, honesty and authenticity are key, but so is celebrating that, while this product may be good for you, it is also better for the environment, which is good for everyone.
Just because the fireworks have gone out and the last of the champagne's been drained doesn't mean brands can't marry health, vitality, deliciousness and indulgence – and tempt more consumers to the table.