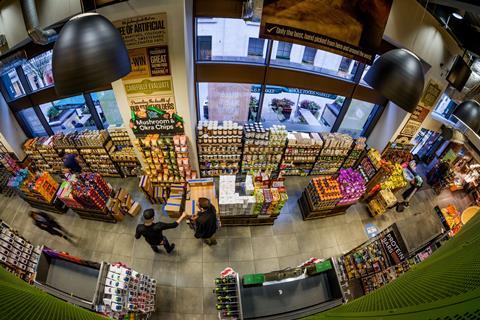 West African foods, non-alcoholic gin, refrigerated on-the-go snacks and a range of alternative flours are predicted to be among the food and beverage products popular with consumers in 2020, according to a new food trends report.

Whole Foods Market's annual food trends predictions - now in its fifth year - is put together by the organic retailer's team of regional and global buyers.

The flavours and products expected to be in demand in 2020 - compiled by studying consumer preferences and visiting food and wellness industry exhibitions across the world - will form a 'Try the Trend' range available in London stores.

Whole Foods Market's top food trend predictions for 2020 include:

• Regenerative agriculture

Farming and grazing practices that restore degraded soil, improve biodiversity and increase carbon capture to create long-lasting environmental benefits, such as positively impacting climate change.

• Alternative flour

2020 is expected to bring more interesting fruit & vegetable flours - such as banana - to the baking aisles, along with red lentil flour and chickpea flour. Consumer packaged goods are replacing traditional alternative flours with purple corn in crisps and snack foods as consumers look for 'super' flours.

• Foods from West Africa

Brands are looking to West Africa for its 'superfoods' such as moringa and tamarind, and lesser-known cereal grains sorghum, fonio, teff and millet.

• Into-the-fridge snacking

Hard-boiled eggs, pickled vegetables, drinkable soups and mini dips and dippers in convenient packaging will be available on-the-go in refrigerated aisles. Protein bars are also predicted to move from shelves to the chiller as well, thanks to the addition of fresh fruits & vegetables.

• Alternative butters and spreads

The demand for nut butters and healthy spreads is expected to extend to seed and veg butters in 2020, including pumpkin butter, as brands seek to eliminate the use of palm oil or promote a Responsibly Sourced Palm Oil certification.

• Not-so-simple sugars

Syrupy reductions from fruit sources such as monk fruit, pomegranates, coconut, sweet potato and dates are predicted to be used by shoppers to sweeten desserts, meat glazes and marinades.

• Zero-proof drinks

As consumers continue to seek out alternatives to alcohol, unique non-alcoholic options are growing, with beverages using distilling methods normally used in alcohol production to create alternative liquors to be used with a mixer, including alt-gin and botanical-infused faux spirits. There are also straight from the bottle or can options, such as hops-infused sparkling waters and zero-proof aperitifs.

Jade Hoai, director of purchasing and operations in the UK, said: "Our customers rely on us to offer the absolute best-quality alternative products that are unique to our stores, from plant-based spreads to alcohol-free zero proof drinks, there's a trend for everyone."

Whole Foods' 2019 forecasted trends also included a rise in hemp-infused and topical CBD products, faux meat snacks and eco-conscious packaging.