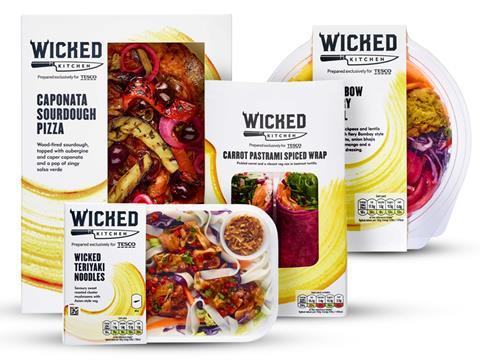 Tesco and Nestlé were this week singled out for praise by activist investor coalition FAIRR for their leadership in developing plant-based food options.

The organisation, founded by private equity pioneer Jeremy Coller, published a report titled Plant-Based Profits, which highlighted the "investment risks and opportunities" in alternatives to animal proteins and found the two companies to be "best prepared" for what it believes will be a growing shift towards plant-based proteins.

By contrast, the likes of Costco and Morrisons were deemed to be behind the curve on all things plant-based.

So what criteria did FAIRR use to assess companies? Why did Tesco and Nestlé fare so well? And why are plant-based credentials increasingly of ­interest to some investors?

FAIRR is coming at the plant-based debate from a particular angle: the not-for-profit initiative stands for Farm Animal Investment Risk & Return, and was established by Coller to challenge the "worrying knowledge gap" among investors regarding the risks and opportunities surrounding companies exposed in some form to intensive livestock farming.

Coller wants to close that gap, ensuring investors better understand a sector he describes as plagued by disease, scandals and poor animal welfare, in addition to showcasing alternative strategies in the plant-based protein sector.

It's not just about ethical investing. Sales of plant-based protein are booming, with the global market set to hit $5.2bn by 2020. Innovative startups in the plant-based arena are increasingly attracting big-ticket investment, with Impossible Foods - makers of the Impossible Burger - scoring $250m from investors since launching 18 months ago.
Meat-free NPD
Mainstream food & drink companies are catching on fast, with a spate of meat-free NPD launching across supermarkets in recent weeks and months. But not everyone is equally well placed to make the most of the plant-based trend - and a strong NPD pipeline is just one of the criteria used by FAIRR to rank companies for its report.

It also looked at how companies' business strategies support the growth of plant-based proteins; what processes are in place to monitor progress; as well as assessing R&D investment levels and efforts to drive consumer engagement in a bid "to understand how companies are positioned to capitalise on the rising demand for alternative proteins".
Tesco earned plaudits for its "actions supporting protein diversification" and its target to cut agricultural emissions by 15% by 2030. FAIRR also praised it for hiring vegan food pioneer Derek Sarno as director of plant-based innovation and its launch of the Wicked Kitchen brand (above), which demonstrates a "best practice case for how a retailer can lead consumer demand for alternative proteins".

Tesco achieved a best practice grading in four of the 11 metrics measured, second only to Nestlé, which picked up five. FAIRR gave Nestlé the thumbs-up for monitoring how much of its proteins derived from plant-based ingredients, targets to reduce supply-chain agriculture emissions, recognising the need to shape sustainable protein consumption and its "robust research process to investigate alternative proteins".

Other grocery names that came in for praise included M&S, which was singled out as the only retailer to demonstrate clear goals for meat and dairy reduction and to diversify its protein sources, as well as Dutch retail giant Ahold-Delhaize and Sainsbury's, which were commended - along with Unilever - for their cross-sectoral collaborations.

Not everyone was praised, though. Costco - one of the world's largest meat retailers - was heavily criticised for its lack of focus on diversifying protein sources or "meaningful discussion" on the environmental impact of livestock. Morrisons failed to provide an update on the specifics of its plant-based strategy, Whole Foods Market did not respond to any requests for information, while Kraft Heinz and Mondelez had no targets on agricultural emissions.

"The report shows alternative proteins are rapidly going mainstream," says Coller, and have the potential to generate "remarkable opportunities for food companies and their shareholders". And with investors showing growing interest in plant-based, retailers and food companies can expect increasingly probing questions about their ability to take advantage of the plant-based boom.