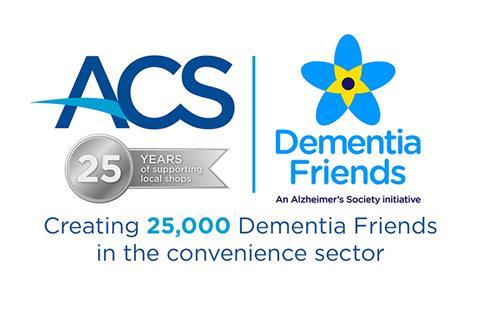 The Association of Convenience Stores (ACS) has teamed up with Alzheimer's Society to host online training sessions that provide advice on how to support customers with dementia.
The sessions are free for ACS members to attend and will be taking place on 20 and 27 August, and 3 September.
The Alzheimer's Society launched the Dementia Friends initiative to change the way people think, act and talk about dementia.
Earlier this year, ACS launched a campaign in collaboration with Alzheimer's Society to create 25,000 Dementia Friends in the convenience sector to help customers, colleagues and communities affected by dementia.
ACS is now hosting these virtual awareness sessions as part of its wider campaign in collaboration with Alzheimer's Society.
"We are delighted to be working with Alzheimer's Society to offer these online training sessions for convenience colleagues," said ACS CEO James Lowman.
"Local shops are a lifeline for the communities that they serve, particularly for those who may be more isolated or vulnerable and we have seen the vital role that our colleagues have played in the lives of their communities during the Covid-19 outbreak.
"I would urge all colleagues in our sector to take part in these training sessions which will provide key information on how you can better support customers living with and affected by dementia in your local communities.
"The face-to-face training sessions we ran earlier in the year were very well-received. These sessions open up this training to many more people from our sector, and we've been excited by the response we've already had from members."
Colleagues who complete the online training will receive a Dementia Friends badge which can be worn to encourage customers living with dementia to approach you if they need assistance.