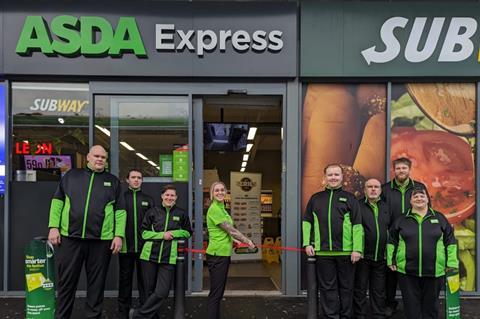 Asda has opened its 100th Asda Express store, following a rapid rollout of Co-op and EG Group conversions.
The store launched in Hexham last week, stocking up to 3,000 branded and own-label products across top-up essentials, food to go, and cooking ingredients.
It followed a further 30 store conversions in locations such as Birkenhead, Solihull, Manchester, Northallerton, Bradford and Retford.
"This acceleration into convenience plays a key role in our ambition to grow our share and become the number two supermarket in the UK," said an Asda spokeswoman. "We look forward to bringing Asda's great-value fuel and groceries to more communities across the UK as we continue our rollout in the coming months."
Last month, the supermarket giant announced it had completed the acquisition of EG Group's UK business in a £2bn deal, taking on hundreds of new convenience stores. These are a mix of Asda On The Move and Spar branded sites.
The investment will also see Asda grow its presence in the foodservice market, with 462 Greggs, Burger King and Subway outlets located on EG Group forecourts transferred to Asda as franchise agreements. The supermarket giant also now wholly owns Leon.
The announcement followed the news Asda had also kicked off its program to convert 116 convenience Co-op petrol stations to its Asda Express brand. The conversion programme came after Asda acquired a total of 132 sites from the convenience retailer last year in a £438m deal.
The acquisition received regulatory approval from the Competition & Markets Authority in June after Asda agreed to divest 13 sites to satisfy competition requirements.