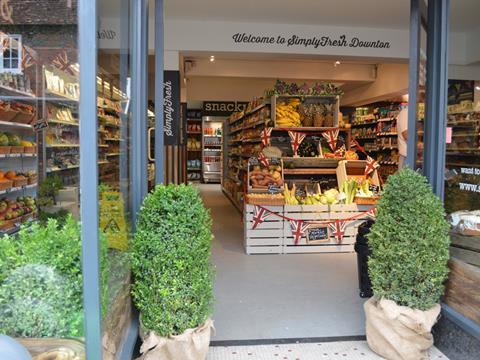 Costcutter has taken a 20% stake in fast-growing symbol retailer Simply Fresh.
Simply Fresh, which is already a member of Costcutter, was established by retailers Sukhjit and Kash Khera in 2009 and has 48 members. It will grow to over 60 stores by the end of 2014.
It said the partnership with Costcutter would allow the Simply Fresh brand to develop further and support its ambitious plans to have more than 300 stores in five years. Costcutter will now add the Simply Fresh fascia to its Costcutter, Kwiksave and Mace brands.
"Simply Fresh is an innovative addition to the symbol group sector and complements our existing family of brands, which will help attract and inspire new and existing members," said Costcutter retail director Daniel Quest.
"It offers a solution for retailers wanting to put increased focus on providing fresh produce for their customers, and we look forward to supporting the future development of this core proposition. It is clear to see the growth potential for the Simply Fresh brand and its vision reflects ours, so working together on its future development is a natural next step," he added.
Kash Khera, MD of Simply Fresh, said: "Having worked with Costcutter for a number of years it is clear to see that we have the same goals and we are very much looking forward to developing our existing relationship as part of this new partnership.
"With access to Costcutter's infrastructure and the full support of its team behind Simply Fresh we can continue the growth and strategic development of the business at a much quicker rate than we could have done on our own. This a very exciting time for Simply Fresh and all of our members and we have a very strong pipeline of new members after recently winning five national industry awards."