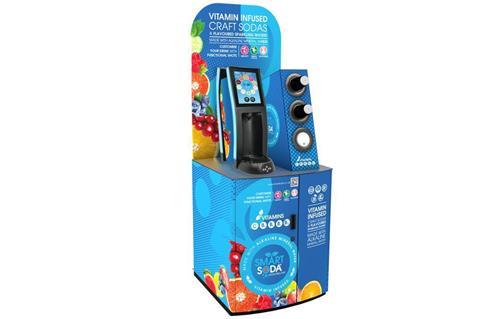 Healthy drink dispenser Smart Soda is using its HFSS compliance to target the convenience sector as it prepares to launch in its first UK indie store this week.
The supplier, which adds to a convenience retailer's food-to-go category, offers vitamin-infused, flavoured sparkling alkaline waters and sodas made with plant-based natural sweetener, reduced British beet sugar or no sugar at all. Its drinks are also vegan, antioxidant-rich, gluten-free and can be boosted with functional shots including 'energy', 'immunity' and 'relaxation'.
UK sales and marketing director Mark Butterfield told The Grocer the fact its machines were not subject to location restrictions under the upcoming HFSS laws acted as a key point of interest to retailers when it debuted at the National Convenience Show in Birmingham last month.
One Stop franchisee Aman Uppal will be first independent retailer in the UK to install it on 13 May, under One Stop's 'Eat Street' banner. Butterfield said he was in talks with One Stop to see if Smart Soda could be made a permanent feature of Eat Street, alongside Tango Ice Blast, F'real, Rollover Hot Dogs, Costa Coffee and Dunkin' Donuts, following Uppal's trial.
He said because Eat Street didn't provide a healthy soft drinks option, Smart Soda filled "a gap in the market".
"We're promoting the business through exhibitions, social media and e-marketing. And once we've got Aman's machine installed, we can build momentum and raise awareness from that," said Butterfield.
The business is currently following up on leads generated from the NCS show in order to "qualify them, see how real the opportunity is and set demanding targets".
It is looking to secure trials with each of the symbol groups and preferably target chains of convenience stores. It added it had been getting traction from forecourt retailers as a propostion that can offer hydration support for commuters.
Alongside looking to play up the dispenser's health benefits, Butterfield said Smart Soda was looking to further enhance its sustainability ethos too.
"The idea is that people will ultimately be able to fill up on the go with their own sports bottles," he said. "The challenge around that is how that gets accounted for at the till because [shopworkers] won't know if they're being presented with a 500ml bottle or 350ml bottle."
He said the business was looking to integrate measured amounts. It currently provides users with bio-compostable cups.
The unit is available on a monthly lease of £349.50 and each flavour was priced at £29.50 for a five-litre container, while the functional shots were £49.50.
"We're very keen to ensure we offer the public a winning formula that is better for them than a lot of drinks that are currently on the market," said Butterfield.
The business was founded in the US three years ago. It has machines installed in 7-Eleven stores across Texas and California.