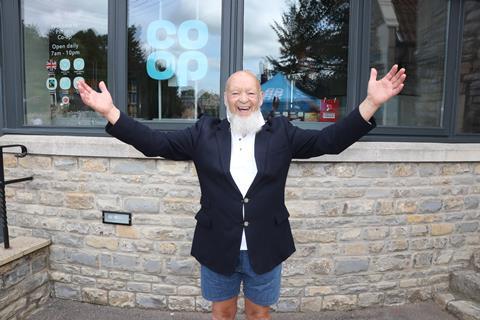 Glastonbury Festival founder Michael Eavis has officially opened a new Co-op store in Pilton, Somerset.
The 600 sq ft site is located just one mile away from the festival grounds at Worthy Farm.
Eavis, and Co-op Food CEO Jo Whitfield, cut the ribbon on Friday 3 July, marking the retailer's first store opening since the onset of the coronavirus crisis in March.
"Co-op's arrival in Pilton is extremely symbolic for us and encapsulates the way in which our stores sit right at the heart of local communities," said Whitfield.
"It's wonderful to know that people living here will no longer have to travel to buy basic groceries and will also be able to enjoy the freedom that a full-time Post Office service brings. We'd like to thank Michael and everyone in the village for welcoming the Co-op so warmly."
Last year the Co-op became Glastonbury's first retail partner, with a 6,000 sq ft store being erected on site for the duration of the festival.
"When I was a small boy living in Pilton there were four shops – my favourite one was called Strickies, which sold sherbet in sticks of liquorice for one penny each," said Eavis.
"One by one, each shop was closed, the last one in 2012 following the village Post Office a year earlier. We managed to resurrect the Post Office in the Working Men's Club building and, thanks to the Co-op, it will remain there for the good of the village for years to come.
"It's such a terrific thing to get these two most important parts of village life back again. Thanks so much for all of those who put in the spade work to make this happen bang in the middle of this wonderful village of ours."
Co-op Group property MD David Roberts added: "Pilton Co-op is a unique addition to our store estate and a perfect example of how our stores can connect communities by operating at the heart of local life.
"We are delighted to be investing in our core convenience estate in order to offer our customers and members the products they want, need and care about, closer to where they live and work."