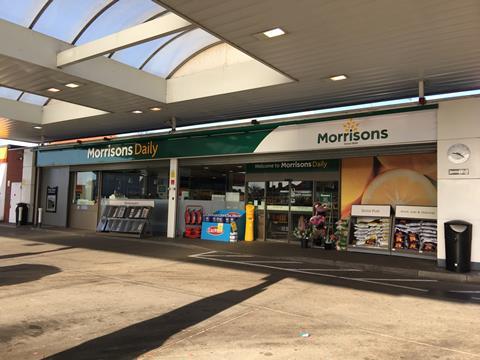 McColl's is set to swap its own branding for the Morrisons Daily fascia at some stores, The Grocer can reveal.

The convenience retailer, which entered into a supply agreement with Morrisons in January 2018, is set to kick off a 10-store trial in late April. The first store to receive the Morrisons Daily branding will be in Bolton.

The stores are expected to be closed for up to 10 days in order to be converted over to the new fascia.

The trial sites will also become the first McColl's-owned stores to sell Morrisons-branded products, rather than the Safeway range, which was developed by Morrisons for its wholesale business and which McColl's had exclusive rights to for the duration of last year.

It will continue to offer Safeway in the majority of its other stores, The Grocer understands.

McColl's did not reveal whether it planned to roll the Morrisons Daily brand out more widely across its estate.

"We regularly trial new initiatives as we strive to continually improve our customer experience and enhance our neighbourhood convenience offer," said a spokesman. "We can confirm we will be trialling the Morrisons Daily fascia and Morrisons own-label products at 10 of our stores from April."

Last week McColl's reported a 57% fall in pre-tax profits to £7.9m for the year to 25 November. While overall sales jumped 8.1% to £1.24bn, like-for-likes fell 1.2% in the year.

However, it said the trend is now heading back in the right direction with flat like-for-likes in the final quarter and a 1.4% increase in the first quarter of the current financial year.

It said the results were heavily impacted by the collapse of previous distributor P&H and the subsequent acceleration of the rollout of the Morrisons supply deal.

It also said this meant it had yet to fully see the expected benefit from the Safeway range.

"The accelerated transition to Morrisons supply led to a more rapid launch of Safeway than we had originally planned and constrained our ability to fully establish and promote the new range," said McColl's CEO Jonathan Miller. "As a result of this, and some challenges with availability, we have yet to see the meaningful increase in overall store performance that we would ultimately expect."

When it released its half-year results in September, Morrisons said it had 34 Morrisons Daily stores on its own petrol forecourts.

At the time there were also more than 40 Morrisons Daily stores that are owned and run by forecourt group Rontec, and nine owned by Sandpiper CI in the Channel Islands.