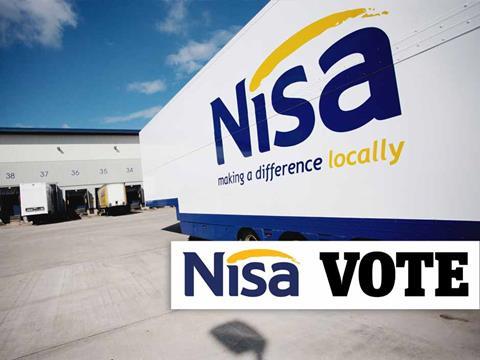 Today, Nisa members voted to agree to a sale of the 40 year-old buying group to the Co-op.
The resolution to sell up received 75.79% support from the shares voting at today's meeting – just about scraping past the required 75% threshold.
Here is how some of Nisa's members have reacted to the result.
Paul Cheema, Malcolm's Stores
"I'm happy with the result. It was a very civilised meeting today and I think we look forward positively to the new year.
Personally I'm looking forward to benefiting from increased scale and a much better fresh range.
The work starts now for the Co-op, to work together with Nisa members to understand what it is we need. But I believe it is an exciting partnership."
Roger Higgins, Nisa member
"For me this deal has always been a no brainer. The marketplace is changing and the Nisa supply chain is already under stress.
The Tesco-Booker deal has always been the elephant in the room and so something had to happen. We have five high turnover stores with Nisa and adding the Co-op range and quality will only be a bonus.
I really hope this deal helps the staff in Scunthorpe. They have been through a pretty traumatic few months. This is their livelihoods and I hope it will help consolidate their jobs."
Kishor Patel, Houghton Trading
"It is a sad day seeing 40 years of Nisa history wiped out. However, what it does mean is that the uncertainty around Nisa over the last few years and months in particular has come to an end.
The uncertainly created a lot of the politics and in-fighting so hopefully everyone can get back to running our stores and servicing our customers."
Derek Lloyd, J&J Wilson
Its fantastic news, it really is. The Co-op wanted us as much as we wanted them.
This should get rid of all that silly back-biting. You find it's the people who moan the most are the people who use the cash & carry the most.
Its not just the offer, which is pretty reasonable but it is looking further than that into what the deal means. Next year Nisa was going to lose a third of its business with McColl's. We were lucky to get them to replace Costcutter but there aren't many half a billion pound businesses left out there who could join Nisa.
It was only going to get harder and I'm glad that we have jumped rather than got pushed.
The Co-op own label is fantastic. I know a lot of bigger Nisa members who have been crying out for a bigger range and the Co-op will suit them very well.
Peter Sykes, Colin Sykes Foodstores
Being passionate about a lifetime ownership and mutuality of a member owned company is now regarded as Rebellious??
Those who voted in favour have potentially damaged independent retailing forever. But they aren't rebels? Was a sale really necessary? Trading alliances exist that could have rewarded the independent sector far greater than a simple sellout.