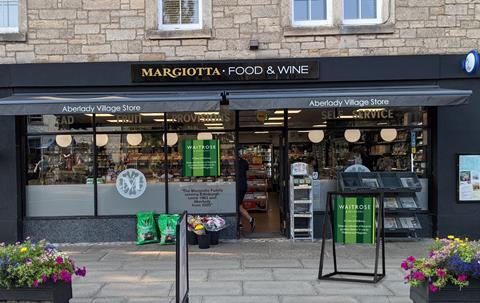 Scottish convenience store chain Margiotta Food & Wine is set to open its first food hall, as part of new expansion plans.
The new 2,000 sq ft site will open near to an existing Margiotta store in Shandon, Edinburgh this summer. It will host a range of products including coffee and honey sourced from the chain's suppliers, as well as a selection of homeware products.
The existing store will continue its role as a newsagent and confectioner, but will be extended with the addition of a gelato counter, fresh coffee and fresh food to go offering.
The new food hall would "be a bit like an M&S food hall" and would complement the existing c-store, the chain's founder and MD Franco Margiotta told The Grocer.
Quality suppliers
"Both we and our customers value local produce from quality suppliers, so we're looking forward to being able to expand our product range with our increased footprint," he said.
The chain will fund the new food hall opening through a £725,000 loan from HSBC UK. Separately, the chain has also signed a lease to open another store in Edinburgh later this year, Margiotta said.
Margiotta currently has 10 stores in total across Edinburgh and East Lothian. The grocer has had a supply agreement with Waitrose since November 2021, and is also working to "broaden" the range of Waitrose own-brand products it stocks, Margiotta said.
The retailer started selling around 600 Waitrose own-brand products, including ready meals and seasonal lines, as well as prepared fruit & veg, but is now able to accommodate "more and more" lines, having worked to build up its logistics network, Margiotta said.
Under the agreement, Waitrose supplies directly into Margiotta's warehouse. Margiotta then delivers to its stores using its own fleet of trucks.