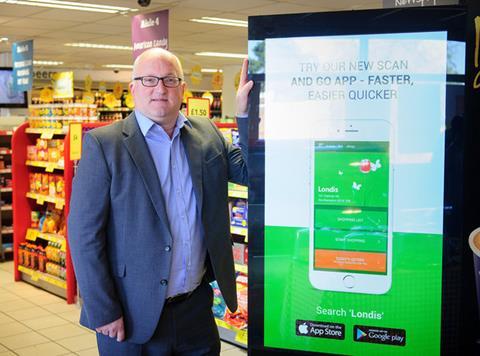 The shopping app Ubamarket, which guides customers to products and lets them scan as they go with their phones, can now be used in a Londis store in Southampton.

Rolled out in the Warner's Budgens estate last year, the technology has just been adopted by one of five Londis stores in the south west owned by Steve Bassett.

The app helps customers navigate the store, in the Bitterne Park area of the city, by giving them the most efficient route through the aisles to items on their shopping list.
It can also let them leave without going to a checkout, instead paying via the app, but Bassett has opted not to offer that as yet.

"We've not enabled that feature yet because we don't feel that comfortable with people scanning and just walking out," said Bassett. Instead the app generates a QR code, which is then scanned at a checkout, where payment is taken.

"It really does take the shopping experience to the next level of convenience and we're sure digital-loving customers will really go for it," Bassett added.

Ubamarket CEO and founder Will Broome said: "Following the success of our launch with the Budgens group, I'm delighted that we are now moving across to the Londis group with our first store in partnership with the hugely innovative and widely respected Steve Bassett."

Wayne Swallow, MD of HTEC, Ubamarket's payment solutions provider, said: "The Ubamarket app is perfect for people just stopping by to grab their lunch or to just make their usual shop more efficient. It also allows the store to notify the customer about particular deals currently running."

The Ubamarket app was rolled out across Warner's Budgens estate last autumn after a nine-month pilot at the flagship Moreton-in-Marsh store.