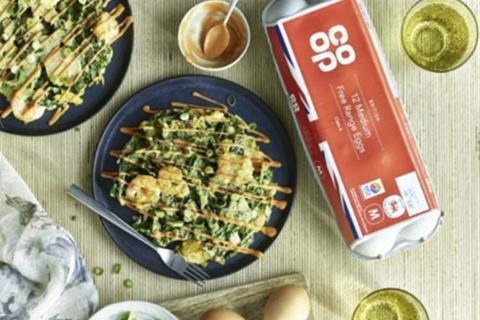 Southern Co-op has introduced new markdown technology in a bid to slash food waste and optimise product sell-through.
The product, named WasteInsight, uses advanced, cognitive-driven technology to analyse a wide range of data points – including product type and seasonality – which enables grocers to calculate a product's optimal discount price and the timing it should be marked down. The aim is to reduce waste while maximising sell-through and minimising loss.
The society's former markdown process on fresh and ambient goods worked by using a fixed price based on time of day, which did not allow for factors such as volume and weather. This can lead to imbalances in sell-through of short life products and reduced-price items, which affects customer availability, waste levels and profitability.
A rollout of the solution, created by Retail Insight, took place in January across Southern Co-op's 210-strong estate, following a pilot period across 10 stores from March until June last year.
"The new markdown process is far more transparent and proactive than it was before," said Southern Co-op head of commercial operations Charles Duthie. "Retail Insight's solution enables us to steer our markdown strategy toward a more optimised way of working, with clear goals and improved visibility into outcomes.
"In-store teams have found WasteInsight easy and efficient to use, and it reduces a great deal of the manual work we struggled with previously. It's great that we now have much better visibility of how our store teams are complying with the markdown values and timings, which is insight that we did not previously have."
Retail Insight CEO Paul Boyle added: "The Southern Co-op's commitment to sustainable retailing that supports the community is almost a century-and-a-half old, and reducing food waste through dynamic markdowns is just another step on its green retailing journey.
"By the intelligent use of data, it now can waste less and reduce its carbon footprint, all while selling more and offering consumers the best prices."
The move comes on the back of the society's plans to scrap plastic carriers and bags for life, announced earlier this week.
It will be replacing plastic bags for life with £1 durable fold-away bags to encourage reuse. Another alternative will be 10p compostable carrier bags as a more sustainable option, which have secondary uses such as in-home food waste caddy liners.
The switchover is expected to complete in the next month.
Southern Co-op director for sustainability and communications Gemma Lacey said: "For years we have been asking our customers and members to bring bags with them so this is naturally the next step – removing the option of buying single-use plastic bags or using a plastic bag for life as the next cheapest alternative.
"We have a duty to act against climate change and to give our customers a way to be more environmentally responsible. However, as our stores are based on convenience, we understand that people might not be carrying a bag with them, so the compostable bag is a more responsible alternative to plastic."