With super fast delivery now 'the currency' of the retail market, how will retailers develop their offers?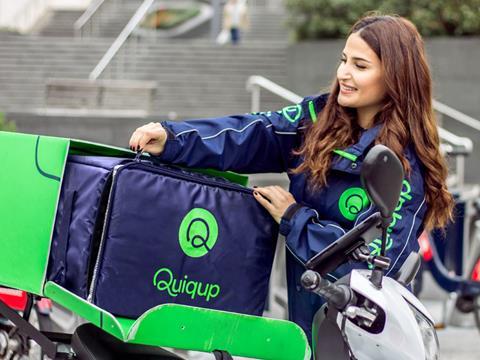 If patience is a virtue, today's consumers must be a sinful bunch. Gone are the days when grocery shopping meant an unavoidable weekly trudge to the supermarket. Convenience is the mantra of the modern shopper, who expects everything to be available for delivery at the touch of a button - and speed is increasingly crucial.
While next-day delivery was previously hailed as a fast turnaround, Sainsbury's CEO Mike Coupe believes same-day is now "the currency" of the market. And he has backed up his words with significant investment.

Last year, Sainsbury's launched Chop Chop, a one-hour bike grocery delivery service in London for its particularly time-pressed customers. In doing so, it joined the growing ranks of companies - from small startups to giants like Amazon - who believe customers want their groceries in a matter of minutes, not hours.

Yet Coupe thinks this is just the start. Currently these services have limited geographical coverage (primarily serving central London) and their premium price point means they are restricted to a niche customer base. So does one-hour delivery have the potential to go mainstream? And will companies that fail to invest in an ultra-fast service ultimately lose out?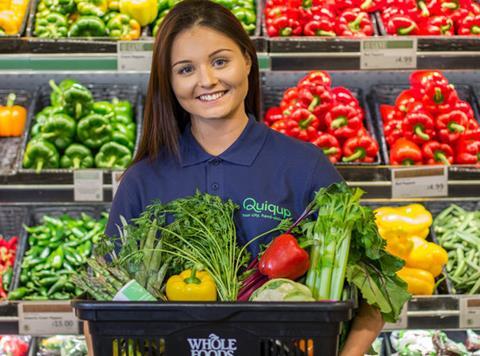 Quiqup
Time ordered: 5.10pm, 9 March
Time taken to arrive: 7.50pm (two hours 40 minutes)
Location: East Sheen
The cost: Waitrose 1 Chicken Pizza £5.49; Cotes du Rhone Giugal 2013 £7.99; Kelly's £3.99 carrier bag 5p. Total £17.52. A 9% service fee (£1.58), plus delivery fee (£4.50) took the bill to £23.60, with an optional tip added by our shopper
The experience: Quiqup could deliver from an impressive array of potential food and non-food retailers. However, the actual range of options listed at Waitrose was extremely limited, with not a single pizza and hardly any wines to choose from. Luckily there was also a 'custom' tag, though it was quite clunky. Worse was to follow. Despite providing a mobile phone number, our shopper was notified in an email that it was having trouble verifying our shopper's credit card details. A second email 20 minutes later cancelled the order altogether. Our shopper tried again a little later and this time, though verification was an issue again, was notified by text, and was able to resolve the issue after scanning a copy of his credit card and driver's licence. The goods subsequently arrived within about 40 minutes (though the Waitrose store was only 100 metres from the shopper's front door). The delivery boy was extremely friendly.
Rating: 2/5
The sheer number of companies entering the express grocery market suggests there is money to be made. Amazon was, of course, the pioneer with the launch of its Prime Now service in June 2015.

The ability to get your emergency pint of milk within an hour for a flat fee of £6.99 sparked a flurry of interest in the market. It wasn't long before a string of independent companies started popping up offering a speedy shop - most notably, Quiqup, Beelivery and Convibo - and Sainsbury's became the first major grocer to jump on the bandwagon with its trial Chop Chop service last summer.
'Rapid delivery allows customers to shop online the way they do at convenience stores - to just get stuff when they need it'
The larger companies are typically guarded on performance figures. Sainsbury's simply says a "promising amount" of customers are using the service and Amazon won't reveal numbers.

But the fact two such savvy businesses think it's a service worth running - Amazon has rolled out Prime Now to roughly a third of UK households and Sainsbury's expanded its service in February to cover more than 40,000 London postcodes - suggests it is more than just a passing fad.

And the smaller players seem to be growing at a rapid rate. Convibo started out last February delivering produce from Waitrose and Whole Foods Market to a handful of inner London areas including Kensington, Chelsea, Fulham and Paddington. Today, it has grown to include M&S and Tesco among its repertoire and delivers to 21,000 postcodes including zone three London areas like Earlsfield. In January, it was taking 1,000 monthly orders and founder Takis Malavetas says numbers are growing at a monthly rate of 30% to 40%.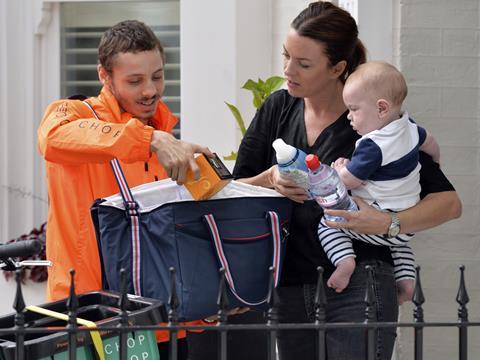 Sainsbury's Chop Chop
Time ordered: 6.14pm
Time taken to arrive: 36 minutes
Location: Clapham, London
The cost: A Sainsbury's own-label pizza, Belgian beer and tub of Ben & Jerry's came to £11 as delivery was free for a first-time user. Normally delivery would add on an extra £4.99.
The experience: The Chop Chop iPhone app is excellent - very easy to use, logical, well thought through and extremely intuitive. As you would expect from Sainsbury's, it is also well designed and looks professional. All of the products on offer are easy to find and broken down into commonsense categories, which made ordering the pizza and choosing the particular alcoholic drink of choice a doodle. Even better, the turnaround time was very quick, even during typically busy peak London traffic, and all the goods came in a smartly sealed brown paper packet and in perfect condition. The driver wasn't the most friendly or chatty (he didn't really speak) but it was still a great all round user experience: the very definition of the word convenient. With Chop Chop, Sainsbury's has done everything in its power to make it easy for potential shoppers to place a no-fuss order for mid-week essentials and provide every reason to tempt repeat use for time-pressed Londoners.
Rating: 5/5
"The way we shop for groceries will be very different in a couple of years, and we're at the forefront of the change," says Malavetas. "Customers now demand convenience at a good price point."

Rival Beelivery is also confident in the market potential, delivering £25,000 worth of groceries a month across 60 UK towns and cities and setting out plans to slash its turnaround time from 90 to 30 minutes. Plus pick-up service Quiqup has ventured beyond its initial partnership with Whole Foods Market in June to offer grocery deliveries from Tesco, Waitrose, Marks & Spencer and several other shops and food to go operators.
How much?
But questions remain over just how much longer this growth can continue. For one, the price point may be a barrier. Amazon's £6.99 Prime Now delivery fee (on top of the £79 annual Prime membership fee) was initially enough to make some eyes water, and that isn't even taking into account the £20 minimum spend and somewhat cheeky service charge (see box, p46).

Some of the other propositions can work out even pricier. For example, Beelivery has no delivery fee on orders over £20 but its average 50% mark-up on products (which it is hoping to reduce to 30%) can substantially push up total costs. A basket of pizza, ice cream and wine that worked out at around £12 at Tesco came to nearly £25 in our test Beelivery shop, making this the most expensive shop in our test.

Still, some people are willing to pay such a premium. Founder Lee Parkinson says Beelivery's customer base includes those who need the service due to unforeseen circumstances, and regular shoppers who just like the speed.

"We surveyed our customers and half of them ordered because they couldn't leave the house - they might have been ill - and the other half just wanted the convenience. These are the kind of people who would ring a taxi and go to the shop, and we're cheaper and a lot more convenient than that."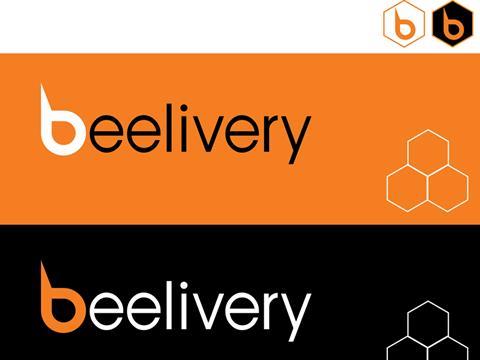 Beelivery
Time ordered: 6.04pm, Thursday 9 March
Time taken to arrive: 29 minutes
Location: East Croydon
The cost: A Goodfella's pizza cost £4.89, a tub of Ben & Jerry's £8.39, and a bottle of wine £11.09. Delivery was 'free', so the total cost came to £24.37.
The experience: You can't deny the service is really speedy although it's also worth noting that our shopper lives less than 10 minutes away from a Tesco, where Beelivery bought the goods.
The website was simple and easy to use (though the range was rather limited), plus it gave options to select specific substitutions or have the delivery driver pick them if the products aren't available.
The shop didn't have the exact brand of wine our shopper wanted so the driver phoned to confirm that she was happy to accept another one, which she was. But he did get lost trying to find the flat and it was necessary to spend five minutes on the phone directing him to the correct address. Once he arrived, he asked for the confirmation code and handed the groceries over. It all felt slightly awkward.
There were also issues with the goods themselves. The ice cream was covered in way too much frost, suggesting it had been sitting in a freezer for a long time or had been defrosted and refrozen. The pizza box was also soggy all over - which was a bit of a mystery as it couldn't have defrosted in 29 minutes (though this was potentially Tesco's fault rather than Beelivery).
On top of that, the service was extortionately priced. The same Tesco shop on MySupermarket came to £12.50, whereas the cost here was almost double. Based on this experience our shopper wouldn't use the service again.
Rating: 1/5
Analysts believe customers will indeed pay a reasonable premium for a fast turnaround. Nick Harrison, senior partner in retail practice at Oliver Wyman, can see a particular demand in "affluent urban locations".

"I absolutely think customers are prepared to pay for convenience when they need it," he says. "Rapid delivery is just another option for customers. It allows consumers to shop online in the way they do at convenience stores - to just get stuff when they need it."
Going bust
But similar to the convenience sector, Harrison believes it will always remain a small part of the grocery market. "I don't think it's going to be more than 10% to 20% of the online market," he says. "For a lot of people it will still be worth paying less and ordering their groceries in a regular slot."

Plus, there are geographical restrictions. Amazon and Beelivery may have broadened their offers beyond the major cities, but Harrison believes it is unlikely to reach small towns and villages.

"I think the economics are much tougher in rural areas. Ironically, there would be more demand because there are fewer convenience shops but there would be a lower density of deliveries and further distances to go. So you're much less likely to do, say, three drops in one - I don't see it working."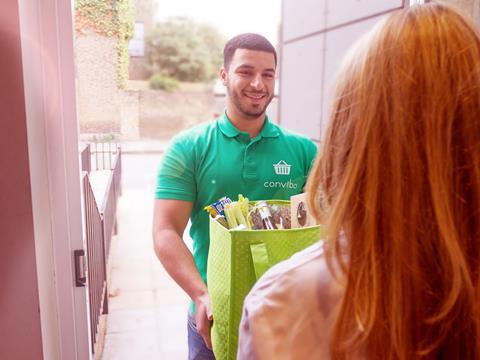 Convibo
Time ordered: 6.25pm
Time taken to arrive: 51 minutes
Location: Clapham, London
The cost: Our shopper ordered from Waitrose (you could also choose to shop from M&S, Whole Foods Market or Tesco). A Waitrose pizza, bottle of red wine and Ben & Jerry's ice cream came to £26.24 when the £4.99 delivery fee was included.
The experience: The Convibo website makes ordering very convoluted, tricky and slow. The biggest issue is it is not divided into easy-to-use categories. The user has to first find the right section for a pizza, which isn't obvious, and then search through all of the hundreds of ready meals and pasta to find the pizza you want - and none of the products are grouped together making it a tiresome exercise. It can't fit all the items in the category on one page so a lot of scrolling and clicking through several pages is necessary. There is the same problems for alcoholic drinks, with red, white and rose all mixed in with beer and spirits. The site is in need of more investment to improve usability or the convenience selling point is in danger of being lost in the time taken to place an order. However, the dynamic online customer service chat was very helpful. Our shopper was initially told there were no slots available for two hours and when he complained, they explained it was very busy and followed up with an email apologising and agreeing to deliver the items within an hour. The food and drink arrived in a big brown paper bag in excellent condition, and the delivery driver was extremely friendly and chatty. Our shopper felt the £4.99 delivery fee was reasonable for the one-hour delivery but not if the wait was longer as initially advised.
Rating: 3/5
As Harrison suggests, density of customers will be a crucial factor in making a profit on these services. For this reason, he believes startups will first concentrate on recruiting customers before worrying about the financials. But the sheer number of emerging players offering this service, together with tight profit margins, make it easy to fall at the first hurdle.

To illustrate the point, ambitious startup Togle launched in July 2016 to deliver food from M&S within 40 minutes.

It made a concerted effort to attract customers by gaining the backing of independent bloggers, offering a £10 discount for new customers and giving away rewards such as flights to Miami for referrals. But eight months later, its website has been taken down. Indeed its Twitter account has been inactive since October, suggesting this was a short-lived exercise.

Even established player Sainsbury's refuses to comment on the profitability of its Chop Chop service and says it is important to look at it "in the wider context of our online business and Sainsbury's as a whole".

Convibo's Malavetas admits the market is "extremely hard and not for the faint-hearted". But, he insists, "if you do the right things there is plenty of potential."

He points to the success of US two-hour grocery delivery business Instacart, which topped the Forbes list of America's most promising companies in 2015 and its turnover exceeds £82m - though questions remain over its exact profitability.

It is difficult to say whether the same success would be possible in the UK market, which has a much more developed online offering. But one noticeable difference between UK startups and Instacart is their relationships with the grocers.
Big brand partnerships
Big names such as Whole Foods Market, Costco and Marsh actively advertise Instacart as a partner, which goes a long way towards attracting new customers. In contrast, the big UK names have been wary of giving their backing to a small external brand (Whole Foods' advertised partnership with Quiqup is the exception).
Tesco and M&S are more than happy for Convibo to deliver their groceries speedily to customers' doors - and have met with the company in person - but have shied away from any formal partnership. Sainsbury's has employed the curiously named third-party delivery service Stuart to operate its Chop Chop service, but the entire customer interface is Sainsbury's branded.

David Jinks, logistics expert at ParcelHero, isn't surprised grocers are cautious over a public deal with a new company because any small startup would need to share the brand's values and standards - or could risk alienating its customer base.

"It's almost outsourcing their reputation," he says. But these risks could nonetheless exist without a formal partnership, he points out. "If the customer isn't really experienced at seeing the provider of the delivery isn't affiliated with the organisation selling the food, you're definitely putting your brand's reputation on the line."

These risks considered, Jinks believes it is only a matter of time before the big players take matters into their own hands.

"I think give it two to three years they will all be doing it either with an official partner - perhaps an established business like DHL - or with their own fleet," he says. Otherwise, he believes they do risk losing out. And Jinks sees a definite move towards customers wanting "instant gratification" and if they can't get it from their retailer of choice, they will go elsewhere.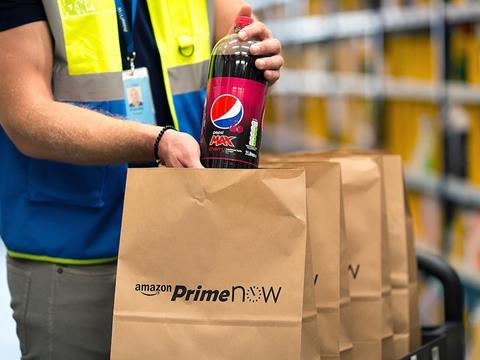 Amazon Prime Now
Time ordered: 7.20pm, Friday 10 March
Time taken to arrive: 52 minutes
Location: Tooting Bec, London
The cost: Ben & Jerry's Core Blondie Brownie ice cream was £2.50, Sailor Jerry spiced rum £20 and Morrisons Meat Feast thin & crispy pizza £2. The order came to a total of £33.49 when a £6.99 delivery fee and £2 automatic service charge was added.
The experience: The app is fool proof. Products are well categorised, the search engine is intuitive and the item listings are clean and easy to shop. The app sends notifications when the order reaches each stage of delivery, there is a function to follow its journey on a map as it travels from the depot to your door and, if necessary, there is an option to send a direct message to the delivery driver. There is an ample range of products available including a limited selection of Morrisons own-label goods, The Best range and some lines from Costcutter's own-label, Independent. Prices are reasonable and do not appear to be marked up. There are no multi-buy offers but the price promotions available would rival a supermarket. The delivery driver was friendly, the goods arrived in perfect condition and the ice cream was still frozen. Everything about Prime Now was great apart from the price. The £20 minimum order threshold makes this service expensive when combining a £79 Prime membership, the delivery fee and, though it can be removed, the tip that is added automatically to the order. The expense of the delivery service well outweighs the draw of the reasonable product prices. However, if customers are willing to wait and have it delivered within three hours, delivery is free.
Rating: 4/5
Analyst Bernstein clearly agrees, having recently named one-hour delivery as a key threat to Ocado (although CFO Duncan Tatton-Brown argues that it is "well positioned however the market moves").

Ultimately, Bernstein sees retailers playing a "huge role" in the development of the super quick grocery game. As analyst Bruno Monteyne points out, their network of stores could put them in the best position to offer rapid delivery and he considers it "an important part of future strategic planning".
Testing the waters
For now, it seems Tesco, Asda, Morrisons, Waitrose and Iceland, are happy to sit back and watch startups test the waters of the express delivery market. And Monteyne stresses it is still very early days.

"Retailers are still testing how big the market can be, how much they can charge, and how the operations could work," he explains. "So we're in the 'trial and error' stage of innovation. Those small intermediaries like Convibo play an essential role in testing and developing the market".

So it may not be a stretch to imagine Tesco and Sainsbury's offering one-hour deliveries as standard sometime in the future. But in a world where delivery times are becoming faster and faster, this is one thing that is perhaps best taken slowly.