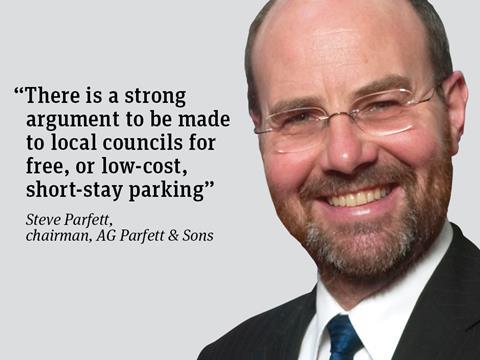 Two recent stories about the Welsh independent retail sector may be an inspiration.
In Cardigan vandals destroyed the town's only four parking machines. While I am not advocating drastic action like that, the unexpected result was that the town allowed free parking, and trade in local retailers increased by up to 50% as a result.
We are all over fond of using our cars and we know how attractive out-of-town shopping is as a result of free parking.
Obviously parking charges would be difficult to abolish, not least because of long stayers, but there is clearly a strong argument to be made to local councils for free or low-cost short-stay parking to retain business.
At a time when convenience is the growth sector for UK retail and when shoppers are returning to buying daily rather than, weekly, surely this is a timely idea. A campaign in Chard in Somerset for two hours' free parking in the town has the "wholehearted support" of the town council.
"There is a strong argument for free or low-cost short-stay parking"
In a much bolder demonstration of strategic thinking, the traders of Crickhowell in the Brecon Beacons have started a serious campaign to highlight the absurdities of tax avoidance by major companies. The town, already unusual in that the only multiple retailer trading there is Boots, has seen independent retailers cooperate with each other to devise a scheme to put to HMRC that mimics the tactics used by multinationals to avoid paying their fair share of tax.
Steve Lewis of Number 18 restaurant illustrated the reason for the campaign when he revealed that his small business paid seven times as much corporation tax as Facebook, a business with UK turnover of £233m in tax year 2014-15. The tactic has already resulted in a meeting with the director general of business tax at HMRC and, while a serious proposal, also serves to show how the ultimate conclusion of not dealing with the unfairness of this issue can undermine the whole tax system.
In Wales more independent businesses still survive than average, as the lower population density and challenges of transport links meant the arrival of the multiples and the destruction reaped by their superstores have occurred more recently in many parts of Wales than elsewhere.
It is still a pleasure to shop at traditional and excellent local stores such as Gwynned Evans Hardware and Gwin Llyn Wines in Pwllheli, Park Stores in Morfa Nefyn, Ashley Hughes convenience store and Jones chemist in Nefyn, and mini department store Kerfoots in Porthmadog.
Long may they and others continue to thrive and prosper as an integral part of the communities they serve.

Steve Parfett is chairman of AG Parfett & Sons