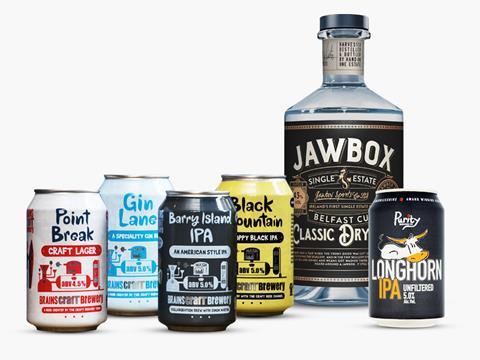 Asda plans to become the "biggest craft beer retailer in the UK" with the introduction of over 100 brews to its shelves as part of a major overhaul of its beer, wine and spirits (BWS) offer across its stores this month.
The range update, which officially rolls out on 24 May, would see up to 10% of its existing in-store space dedicated to craft beer, Asda said, having already added 40 new SKUs from the likes of Brains, BrewDog, Harbour Brewing Co, Innis & Gunn, Purity Brewing Co and Vocation since December 2016.
"We hope these changes will help Asda become a real destination for craft beer drinkers," said Asda ale and craft beer buyer Hywel Evans.
"We want to build the most credible range out of the major retailers through adding over 100 new lines including regional beers."
Asda is also "revamping" its spirits offer with new craft gins, rye whiskies, vermouths and tequilas. The supermarket added more than 40 new spirits SKUs last week, including bottles from craft and specialist distillers such as Jawbox Spirits Co, Sipsmith, King of Soho, Eden Mill, Red Leg and Pickering [Brandview].
Jawbox was already available in 150 M&S stores across the UK, as well as Sainsbury's and Tesco stores in Northern Ireland. The deal to supply 500 Asda stores was "an important breakthrough", said founder Gerry White.
Asda also revealed it had undertaken "one of the largest reviews of its wine to date", reducing range duplication by 25% and introducing more premium bottles.
It follows in the footsteps of Tesco, which delisted a spate of Heineken products to make room for craft players in February, and Waitrose, which introduced 25 new craft beers to its shelves two weeks ago.
Asda doesn't appear to have delisted any single brand as part of its overhaul, but it has steadily reduced the number of multipack and larger bottled beer and cider SKUs on its shelves since the end of 2016.
Heineken brands were among those culled, with Asda taking the axe to six Bulmers, four John Smith's, three Caledonian, two Foster's and two Amstel SKUs - although it listed five smaller Bulmers SKUs weeks later and two smaller Caledonian SKUs in early March. Heineken's recently launched craft brand Maltsmiths also picked up listings for its two variants.
The supermarket also appears to have delisted London brewery Fuller's London Pride 4x440ml multipacks and AB InBev-owned Stella Artois lager 15x284ml and Beck's 15x275ml packs.
It follows a hike in prices across over 600 beer, wine and cider SKUs in Asda in March. At the time, the retailer said the price changes were down to its annual promotional cycle, but average prices remain 2% higher year on year across a comparable list of 1,566 BWS SKUs in stores [Brand View 52 w/e 9 May 2016].