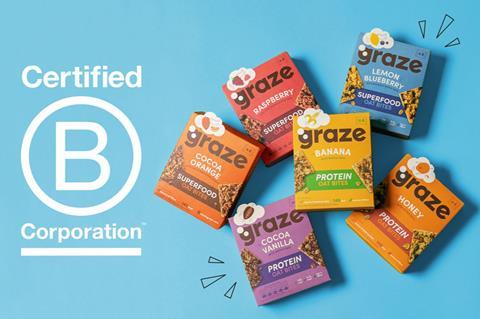 Healthy snacking brand Graze has become a certified B Corp.
Graze scored 84 out of 200 in the B Corp assessment, scoring highly in the 'customer' section for its ongoing commitment to creating healthy alternatives to unhealthy snacks, it said.
Since the end of 2019, the brand has removed 160 tonnes of sugar from its snacks as well as ensuring none are high in salt and 75% of them contain fewer than 150 calories per portion.
At its factory, Graze uses 100% carbon neutral electricity and recycles over 50% of its waste on site, with an ongoing waste reduction target of 20% each year.
In addition, 83% of its packaging is currently fully recyclable and 79% plastic-free. It said it would continue to progress in this area.
Graze CEO Joanna Allen said the brand had "worked hard to improve all areas of our business to ensure we are doing good for both people and the planet, an integral part of our business strategy and purpose".
Graze joins the likes of Dash Water, Charlie Bigham's and Danone Waters, who all achieved B Corp status last year.