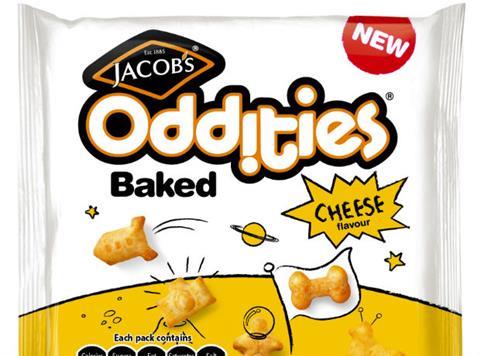 So, farewell then, Jacob's Oddities. You were axed by Pladis earlier this year and have finally vanished from grocery shelves. And you hadn't even reached your sixth birthday. Yet, you seemed old, somehow. Such is the speed at which savoury snacking moves these days, I guess.
When United Biscuits (now Pladis) launched you in December 2011, you were something of a revelation, tapping burgeoning demand for healthier bagged snacks and adding a little pizzazz to the savoury biscuit category through your seven "unexpected shapes".
The design idea was clearly a lift from the confectionery sector, but props to Jacob's for its sleight of hand – and for its vision. The brand was looking kinda dusty not so long ago, but NPD like you helped add a new sparkle.
Of late, however, your pack design and choice of variants were starting to look akin to the potato crisps you once aimed to counter – and your sales had plummeted. (Last summer, your value sale were down 60% to £3.3m [IRI 52 w/e 25 June 2016].) You had been superseded by hipper, more sophisticated options in the bagged snacks aisle. Look to, say, Hippeas, Yushoi Snapea Rice Sticks or PepsiCo's new Off The Eaten Path – all full of fascinating ingredients and shouting about their healthier eating credentials.
Your end also comes, Oddities, as Jacob's sees fast growth for its more modern (albeit not-entirely different) Cracker Crisps. These are tough times for brand owners, with range rationalisation forcing them to make tough decisions about their ranges (just look at Walkers' DIY rationalisation initiative Choose Me or Lose Me).
Not everyone will make it in such a climate, Oddities – and you, ultimately, didn't.