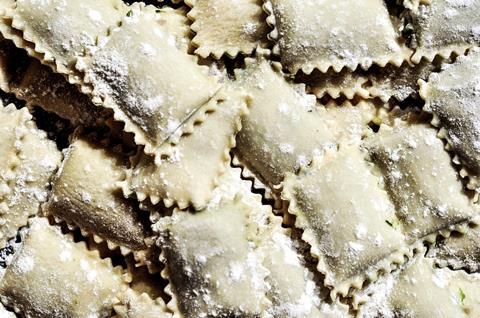 Contestants pick ingredients from an edible set and create "wacky" dishes to be judged by a panel of "world renowned food gods". That's the premise of Heston Blumenthal's camp new show Crazy Delicious (Channel 4, 28 January, 8pm) which this week saw three hopefuls put their imaginations to work on the apple, spag bol and brunch.

The set looks like the Garden of Eden, albeit one you can eat. Cool, though surely the prosecco waterfall would be warm and flat under studio lights? Continuing the gods theme, the judges - Blumenthal, Swedish restaurateur Niklas Ekstedt and US TV chef Carla Hall - look down on the kitchen from a cloud, clad all in white.

Sometimes the 'twists' were interesting - like contestant Elainea's use of black pudding within a sweet apple treat. Sometimes they weren't - like Harry's fairly large multi-coloured ravioli.

Blumenthal was guilty of phoning it in. "You've certainly exploited the apple in a great way," he droned. And while Ekstedt and Hall lifted the energy as best they could, host Jayde Adams was no match for Nailed It's Nicole Byer.

Perhaps Heston's lethargy could be explained by his awareness of the show's big issue - we're all used to crazy foodie creations by now. Blumenthal lines like vanilla mayonnaise and tea-soaked salmon first appeared in Waitrose a decade ago. Plant-based produce made to look like cuts of meat are mainstream. It's going to take more than a big ravioli to wow us now.