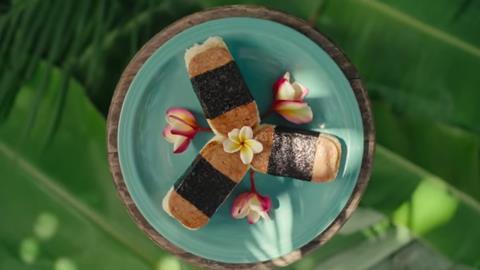 The US is Netflix's focus for the latest series of Street Food (available now). The locations across the six episodes are predictable – New York, LA, Miami, etc – with one exception.
That is, the Hawaiian island of O'ahu. It looks gorgeous. And so does its food. Lunch trucks and holes-in-the-wall provide a taste of "the soul of Hawaii", as chef Mark Noguchi puts it.
Dishes fuse local Polynesian cuisine with ingredients from the likes of the Philippines, Japan, Portugal and Korea. There's huli-huli chicken (sticky chicken thighs), Spam musubi (sort-of sushi), kalua pig (pulled pork), poi (starchy goop made from the root veg taro) and haupia pie (coconut & chocolate dessert).
At the top of most menus, however, is poke, a ubiquitous diced raw fish dish (typically tuna). "Hawaiians eat so much poke, it's more expensive than gas," chuckles interviewee Lanai Tabura, who takes a trip to Da Bald Guy.
It's a popular O'ahu lunch truck where the poke, unusually, is fried – a creation of likeable (and smooth-headed) chef James Martin, who runs the business with his dad, Leonard Nombris.
Their story, the episode's through-line, is one of tough love, obstinacy, disunity, reconciliation and mutual respect. It's as touching as their macaroni salad is mouth-watering.
In one way, they're quite typical of the O'ahu food scene, where a number of parents are shown working alongside their kids. Another example is the Poi Factory, with its mission "to nourish people with the food and the spirit of our ancestors".
Mission accepted!

Daniel Selwood is The Grocer's special projects editor, managing Britain's Biggest Brands, Britain's Biggest Alcohol Brands, The Dairymen and Top Products – as well as contributing to news, features, analyses and category reports.

He joined the magazine in January 2016 as food & drink editor, having been at financial & legal publisher LexisNexis for eight years.

He began his journalism career in the mid-1990s at a general interest magazine in his birth city, Sheffield.

Follow Daniel on Twitter: @danielmcselwood