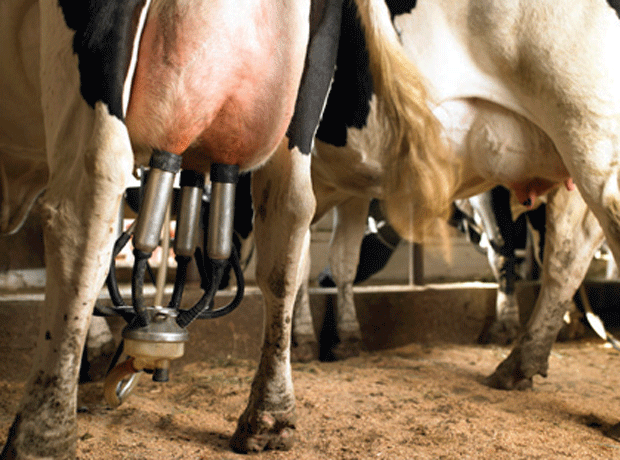 The UK's leading dairy organisations have outlined their plans for the sector's future in a bid to boost growth at home and abroad.
Launching its 'Compete to Grow' strategy, the National Farmers' Union set out a wish list for itself, DairyCo, Dairy UK and Defra at the annual Livestock Event at the NEC in Birmingham yesterday.
DairyCo had an important role to play in communicating the value and meaning of the Red Tractor to consumers and Dairy UK must work with processor members to roll out the Dairy Industry Code of Best Practice for Contractual Relations, the NFU said in the report.
Defra must press for equitable contractual relationships for all dairy farmers, champion the dairy sector in its communications, and push exports, it added.
The British dairy industry was at a crossroads but it had an opportunity to become a global leader in future, Rob Harrison, vice chairman of the NFU dairy board, wrote in the report.
"Against a backdrop of a £1.5bn dairy trade deficit, an exciting opportunity exists to find ways of growing our industry by reducing that deficit."
Dairy UK white paper
Dairy UK launched its own white paper at the event, setting out the achievements of the dairy industry to date in areas including the environment, animal health and welfare, and efficiency, and setting out opportunities for the future.
The industry faced the challenges of the weather, disease, input costs and volatile markets but rising prices on the back of stronger international demand brought promise for the rest of the year, Dairy UK chairman Billy Keane wrote in the report. "Optimism, backed by encouraging long-term forecasts for rising global demand, is not misplaced on this occasion. We must exploit these opportunities to the full. We are well set to win our share."
DairyCo also launched its new consumer campaign at the event. Discover Dairy will be fronted by celebrity farmer Adam Henson and will help to promote Red Tractor Assurance by encouraging consumers to 'Trust the Tractor'.