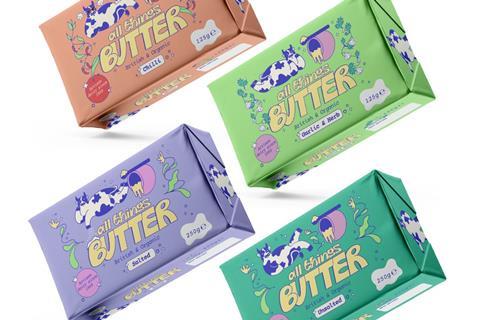 TikTok sensation All Things Butter has secured its first major retail listing via Ocado.
The organic butter startup will go on sale in the online retailer on 8 November with a four-strong lineup.
The range includes Salted and Unsalted variants in 250g packs, priced from £3.15 per pack, and flavoured alternatives including Garlic & Herb and Chilli block butter variants, available in 125g packs starting from £3.10.
The Salted line is recommended to be served on toast, featuring a light crunch, and is used at co-founder and chef Thomas Straker's restaurant Straker's and Flat Bread in Notting HIll.
The Unsalted variant was ideal for making compound butter with other added ingredients, the Garlic & Herb variant should be used to elevate everyday dishes and the Chilli butter is made using a variety of chillies, smoked paprika and lemon juice, the brand said.
"We hope to show consumers that buying fantastic butter can elevate everyday cooking, whether that be by using our flavoured butter as a strong replacement for olive oil or even as a substitute for pasta sauce," said Straker. "Not only does butter have an excellent taste, but it's also a natural ingredient that holds nutritional value."
The brand hopes to disrupt the dairy industry by "offering the first chef-led approach that introduces a flavour range, that puts British farming at the forefront and donates 1% of its revenue to support the British agricultural industry". All Things Butter will be confirming its first British agricultural based charity next week.
The butter is manufactured at Brue Valley Farm in Somerset which uses traditional methods that include twice churning the butter to "achieve the perfect texture and enhance creaminess".
"When developing the brand, we visited over 30 supermarkets to conduct market research, and felt the dairy category had seen too little innovation for far too long," added fellow co-founder Toby Hopkinson.
"Supermarket shelves were dominated by traditional, heritage-led brands, and the butter industry faced difficulty due to the growth of butter alternatives, as consumers increasingly replaced butter with cooking oils in their cooking," he added.
"With no one fighting back against the dairy-free and plant-based products that have rapidly taken category share, we felt there was a perfect place to disrupt and add in a real taste-led alternative."
All Things Butter was born out of the success of Straker's TikTok channel of the same name, which has earned over two million followers.
Further confirmed stockists to follow include The Modern Milkman, Milk & More, Planet Organic and Gopuff.