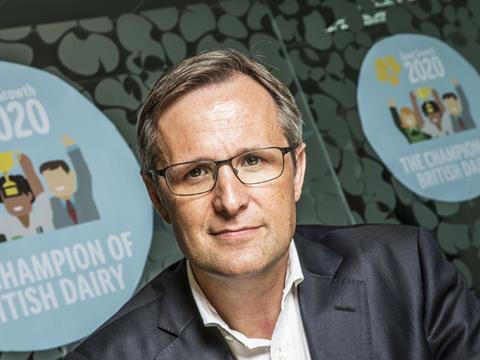 The UK has a significant opportunity to grow organic dairy sales, which lag far behind the rest of Europe, according to Arla's UK boss Tomas Pietrangeli.

With the topic of free-range dairy high on the agenda following the launch of the UK's first national free-range milk brand - Free Range Dairy Farmers - in Asda earlier this month, Pietrangeli said the dairy co-op had no plans to introduce its own free-range milk variant. Instead, it would concentrate on its burgeoning organic offering.

"We welcome the innovation. All added-value concepts can deliver more value into the dairy category, which is positive. But on free-range, we believe organic delivers the same needs [on grazing] plus more," he said.

Arla launched its first branded organic product in the UK last year with its unhomogenised Organic Farm Milk, and Pietrangeli hinted the dairy co-op had further plans to expand its organic offering.
"This is definitely the first step in a journey which is not finished. We have a lot of good ideas how to speed up on innovation," he said. "We want to stimulate and accelerate that trend."

Pietrangeli added Arla was "on the right track" to reach its goal of decommoditising dairy, and had added some £95m in value to the struggling milk category last year with the launch of a host of milk-related NPD.

The Sales in the category declined by £148m in 2015, but by only £23m in 2016 [Nielsen 52 w/e 2 January]. This was the result of improvements to Arla's growing branded milk portfolio, which saw total volume sales increase by 12%, Pietrangeli claimed,

Some 1.5m shoppers had traded up from standard fresh to Arla branded milk, he added. He pointed out that without the dairy co-op's brands, the category would have declined by £118m in 2016.

"At the beginning of 2016 we launched a 2020 vision to become the champions of British dairy, and part of that vision involved a step-change in innovation. Dairy in the past has not been a category known for innovation, especially milk," he said.

"Milk was an area where we had a goal of decomoditising the category, in both branded and own label, so we worked very hard for 12-15 months to drive that strategy through. We're now on the right track to do reach this goal."
● Read more on dairy drinks in our category report 2017 by following this link