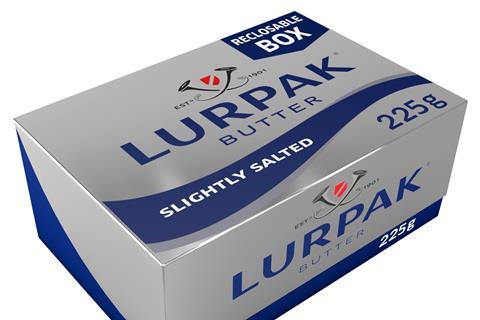 Arla Foods has claimed the "first block butter packaging innovation in 60 years" with the launch of the resealable Lurpak Butterbox.
The dairy co-op said the cardboard box, which went on sale in Asda today, had been developed following consumer research [conducted by Mindmover, September 2018], which revealed 45% of shoppers agreed block butter packaging was "messy to use".
A further 57% of consumers said they would be more likely to purchase block butter if the packaging was easier to open and reseal, the research found, prompting Arla to seek a solution.
Butterbox was a "convenient reclosable box that addresses the consumer barriers and frustrations with block butter in foil", Arla said.
It marked the first packaging innovation in block butter packaging since foil was first introduced in 1957, it claimed, and is currently available in a 225g format (rsp: £1.95). This compared to an rsp of £1.95 for a 250g standard block of Lurpak.
"Block butter is of huge commercial importance to the category and has strong taste and heritage credentials with consumers," said Lurpak brand manager Lucy Hurrell-Morgan. "However, we know that there are barriers for shoppers when it comes to buying block butter and this has impacted on the value of the category as a whole."
Hurrell-Morgan added the innovation would add value to the category "and give consumers a reason to trade up to Lurpak block butter".
The box is currently not recyclable. However, Arla stressed it was "very aware" of the issue and "working on a solution" to make it 100% recyclable.
The launch will be supported by a £2m marketing campaign from October, including a national outdoor campaign, digital, shopper and experiential activations.