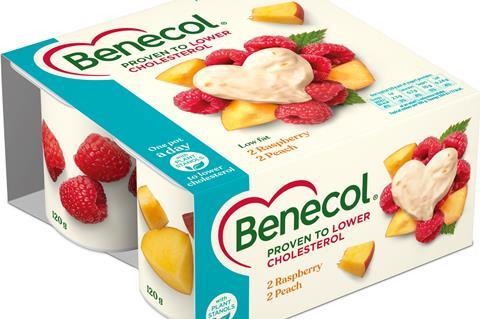 Heart health-focused brand Benecol has more than doubled the amount of cholesterol-busting plant matter in its potted yoghurt range, following a reformulation.
The move will see each 120g yoghurt contain 2g of plant stanols compared to the current 0.8g per pot.
This plant matter is said to "block" LDL cholesterol from entering the bloodstream. According to the Association of UK Dieticians, eating between 1.5g to 2.4g of it every day can reduce cholesterol by as much as 10% in three weeks.
It means consumers will only need to have one pot a day to get the right amount, according to Benecol.
"We are excited to market our new yoghurts in the UK, which we believe taste great and will make getting the right daily dose of plant stanols even easier," said Benecol nutritionist Sarah Franciosi.
"Eating just one pot daily with a meal will help people with raised cholesterol conveniently reduce this, without having to make dramatic lifestyle changes."
Rolling out into most major supermarkets throughout October, the new formula will appear in two four-pack variants – Strawberry & Cherry as well as Raspberry & Peach flavours (rsp: £3.15/4x120g).