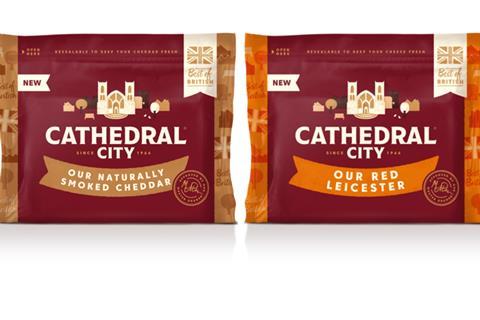 Cathedral City has taken a further step outside its traditional cheddar heartland with a first significant move into red leicester and smoked cheese.
The Saputo Dairy UK brand, which launched a plant-based variant of its market-leading cheese last year, will launch new products Our Red Leicester and the cheddar-based Our Smoked into 210 Sainsbury's stores on 13 September (rsp: £4.75/300g each).
Part of Cathedral City's new 'Our Best of British' range, the NPD marks the first time the brand has launched red leicester and smoked cheese blocks.
Red leicester sales are now worth £147.7m, up 24.3% year on year with growth outperforming the rest of the cheese category [Kantar 52 w/e 14 May 2023]. Saputo said it hoped the launch of a branded alternative in a category largely dominated by own label would drive further sales growth.
The dairy giant added its 'Our Naturally Smoked' NPD differed from most smoked cheeses, the majority of which are instead smoked through an artificial blending process.
"There is a real opportunity for us to lead the way in both sectors, bringing a Cathedral City branded offering to the red leicester market, and raising the profile of the naturally smoked category in the pre-packed cheese aisle," said Neil Stewart, head of marketing for Cathedral City at Saputo Dairy UK.
"Branching out into these sectors is a momentous occasion for the brand as we offer two new great-tasting products to consumers who have been searching for a quality offering which encourages them to purchase regularly," he added.
Cathedral City saw sales decline far faster than the wider cheese category last year, according to data from The Grocer's Top Products report, with value sales dropping by 12.9% to £251.9m, compared to a total category decline of 0.8% [NIQ 52 w/e 10 September 2022].
Volume sales dropped by 20.6%, compared to 7.4% for the wider cheese category, amid a contraction in sales driven by inflation. However, the brand remains by far the biggest in the cheese category, with annual sales more than double that of its nearest rival Dairylea, at £127.8m.
And Saputo stressed the brand's sales had since picked up with value sales up 6.6% to £301.6m over the past year [Circana 52 w/e 5 August 2023], though total volumes for the brand were down 6.7%.
It comes as Saputo has also announced the launch of a new 500g spreadable tub format of its butter alternative, Willow.
The new spread will launch into Iceland on 11 September and be followed by listings in Asda and Bestway later in the year.
"Willow Spreadable is a versatile, great value alternative to spreadable butter," said Georgina Thomas, head of marketing for butters, spreads & oils. "The new 500g pack is ideal for families of all sizes and presents us with an opportunity to capture price-sensitive shoppers who have previously opted for private label."
The launch will be supported with in-store, online and depot activity.