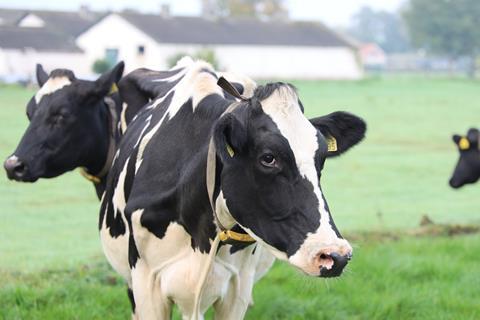 Dairy processors face being locked into compulsory milk supply contracts for the first time, after the UK government and devolved administrations agreed to create a new code of conduct for the sector.
Defra said a statutory code would be introduced later this year, with full implementation expected in about 24 months to allow for further consultation and to give "industry time to adapt to any new requirements".
The new code would "provide a guiding framework, establishing minimum standards but also providing businesses with the flexibility to adapt contracts to their individual circumstances", it added.
Officials are looking at a raft of options over how the new code will be enforced, ranging from advisory panels to an independent adjudicator model – similar to the Groceries Code Adjudicator. "We will consider all evidence and will continue to work with industry to design an effective enforcement mechanism," suggested a Defra spokeswoman.
The long-awaited code follows a 12-week consultation into tackling unfair practices across the sector last summer. It would ensure a "fairer dairy supply chain", Defra added, after environment secretary George Eustice had previously admitted the sector's voluntary code "had not worked".
The consultation confirmed "imbalances of power within the dairy supply chain were believed to be causing instability for dairy farmers, such as where milk buyers have the ability to set and modify the terms of a contract at short notice", Defra said.
First suggested by then-farming minister Eustice in 2018 as part of plans for new rules on "fair dealing with agricultural producers" in the government's new Agriculture Bill, the proposal for a compulsory code has subsequently become a political football between processors largely against greater regulation and farmers in favour of it.
The issue reared its head again last spring when the impact of the first coronavirus lockdown on the foodservice sector led many mid-market milk processors to reduce or withhold payments at short notice, prompting many farmers to have to pour away unwanted milk.
The NFU, NFU Cymru, NFU Scotland and the Ulster Farmers' Union described the announcement as a "huge step in the right direction".
In a joint statement, the unions said: "For too long, dairy farmers have borne far too much of the risk in the dairy supply chain and inappropriate contract terms are often at the root of the problems. Contracts have been weighted too heavily in favour of the milk buyer who can change terms and pricing mechanisms, and even introduce price cuts without negotiation, while locking farmers into changes without recourse."
However, Müller, which along with industry body Dairy UK, has previously cautioned against the negative impact compulsory contracts could have on the sector's flexibility to react to commodity price volatility, was more circumspect.
"As supporters of the voluntary code and of a sustainable dairy industry, we have long taken the stance that supply chain relationships with farmers must be underpinned by market orientation, fairness and consistency," said a Müller spokesman.
"Within a progressive industry the code of conduct must facilitate this whilst also enabling the creation of innovative solutions where they benefit the whole supply chain – our farmers, our business and our customers," he added.
Dairy UK, however, welcomed the announcement, stating it was "supportive of the introduction of a mandatory code", particularly the need for "flexibility and transparency within the supply chain".
Farming minister Victoria Prentis said the new code would "crack down on unfair practices within the supply chain, supporting the dairy sector and ensuring that our dairy farmers remain competitive as they look to the future".
Her comments were echoed by Scottish rural economy secretary Fergus Ewing, who hailed the "increased transparency" a new code would offer.
Elsewhere, Welsh environment minister Lesley Griffiths added it would help "ensure a resilient future for our Welsh dairy industry". Meanwhile, Northern Irish environment minister Gordon Lyons welcomed plans for further consultation over the code's implementation to take in the additional challenges faced by the sector in NI, such as the impact it would have on its dairy co-ops and cross-border business.