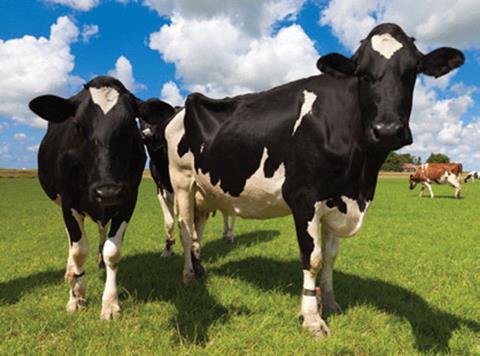 Plunging milk prices, angry dairy farmers, cow protests in supermarkets. The past year-and-a-half has hardly been quiet for the dairy industry – and 2016 could bring yet more upheaval.
For once, however, the news could be good.
The impact of El Niño, combined with low global commodity prices and a reduction in dairy cattle, suggests a drop in New Zealand milk production this year. AHDB Dairy forecasts a 3% to 6% fall in milk output from the country.
A decline in New Zealand milk production could be a vital driver for the recovery of global commodity markets; an increase – or at least stabilisation – of UK farmgate prices could follow suit.
There are also noises that a return of demand from China – that much-cited panacea for all the dairy industry's ills – will materialise in 2016.
As the industry waits for the dairy commodity tide to turn, there are other clear signs from some of UK dairy's biggest names that change is afoot for 2016.
After months of wrangling with the Competition & Markets Authority, Müller finally got its hands on Dairy Crest's liquid milk business on 26 December. It was quick out of the blocks this week, proclaiming the deal could "reinvigorate" the struggling milk and ingredients sector.
The processor has also promised to pour some big investment into the Frijj milkshake brand it now owns.
The DC deal is a prime opportunity for Müller to reassess its branded liquid milk portfolio – which now also includes Country Life milk – and, as we report in The Grocer this week, experts expect some rationalisation.
It's not all about Müller, though. Arla is following up on a very busy 2015 with a major new branded innovation (also revealed in this week's edition and on thegrocer.co.uk tomorrow). Meanwhile, all eyes remain on First Milk and the turnaround programme it launched in 2015. The board of the struggling co-op will hope a renegotiation of its banking facilities will spark a recovery– though it had to cut its farmgate price further last week.
A now unencumbered Dairy Crest also has big plans for 2016, centring on the opening of its shiny new processing plant at Davidstow and the opening up of potentially new export markets through its whey joint venture with Fonterra.
With other dairy companies such as Wyke Farms, Omsco and Daioni also pushing harder than ever to capitalise on new export markets, this year could finally offer some light for the beleaguered dairy industry.