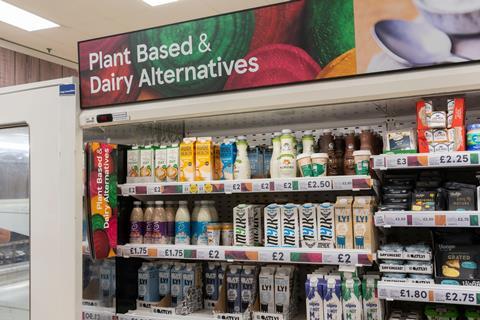 A potential ban on words like 'mylk', 'yogs' and 'sheeze' to sell alt-dairy products would be "devastating" and pointless, plant-based players have warned.
Greenpeace this week accused the dairy industry of lobbying government to adopt a stricter approach to labelling of alt-dairy products.
As well as preventing use of the word 'milk' for plant-based products, updated guidelines have suggested also banning brand names and product name descriptors like 'mylk' and 'm*lk', plus statements such as 'not milk', marketing images that invoke milk, and use of terms such as 'an alternative to x' or 'yoghurt-style'.
The proposals also cover terms such as 'red Leicester flavour' on non-dairy products and descriptors such as 'semi' or 'whole' applied to plant-based drinks.
Any potential clampdown was described as "devastating news" said Met Foods, owner of plant-based yoghurt alternatives Cocos Organic and Nush, while Oatly UK's head of public affairs Tim Knight said it "would make it harder for people to seek out alternatives to dairy".
New restrictions
New draft guidance from the Food Standards & Information Focus Group is being prepared to help trading standards officers interpret and enforce laws on how dairy alternatives are described in packaging and marketing. It comes as The Times reported last weekend that the government had told companies it would not stand in the way of trading standards officers publishing new restrictions on the use of dairy terms.
However, the opinion issued earlier this year by the FSIFG was merely "an interpretation of existing law and does not propose to add new rules – it is intended to make labelling and marketing clearer and minimise opportunities for consumers to be misled", stressed Dairy UK CEO Judith Bryans.
"The existing law is a reflection of the fact that dairy foods are unique in their nutrient richness and an essential part of a healthy and balanced diet and cannot be replaced by alternative imitations," added Bryans.
But Marisa Heath, CEO of the Plant Based Food Alliance warned "instability in the market will be created, time and resource will be wasted, and consumers will not benefit in any way at all. Neither will the environment nor the economy.
"This is totally unnecessary and there is no problem at all to solve unless this group of trading standards officers believe the public are stupid," she added.
Her comments were echoed by Adam Draper, MD of Rebel Kitchen owner Nurture Brands, who described the proposals as "a total waste of time for Ttrading Standards and of taxpayers' money".
Plant-based products were not "dining out on using diary-based names, nor do I think calling something a plant-based cheese, or plant-based milk confuses a shopper", he argued.
The Met Foods spokeswoman added: "There is no evidence to show consumers are confused by terminology such as 'yogs' or 'yoghurt alternative.' This stems from big dairy corporations resorting to bullying tactics to intimidate smaller companies in the plant-based space."
Consumer understanding
Meanwhile, Liam Keogh, co-founder of food and drink PR agency Palm PR added that "these changes will not be felt equally as they would favour larger brands" as small brands "depend on these soon-to-be prohibited product descriptors to help build consumer understanding and drive sales".
The proposals have even provoked the concerns of predominantly dairy-based brands such as The Collective.
A spokeswoman said the business was "keeping an eye on the situation", and if new guidelines or legislation were to come into force, "we'd of course assess the implication of using 'yog' and 'yoghurt alternative' on [its plant-based] products."
Heath has called on the government to instead support the plant-based industry with "public procurement of plant-based foods, investment in alternative protein product research and innovation, and incentives for farmers to transition away from meat and dairy production which would help ensure that we combat climate change and provide consumer choice".