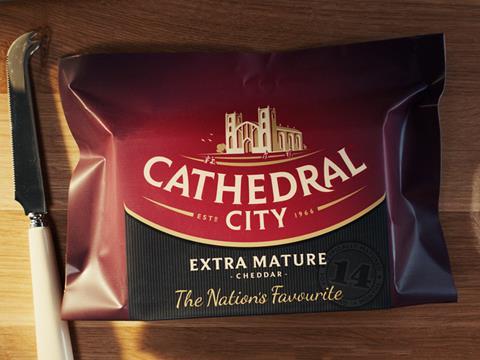 Saputo Dairy UK has been forced to withdraw its Cathedral City Extra Mature variant from sale due to "unprecedented" demand for the cheddar from locked-down Brits.
Of the brand's 14 Extra Mature listings in the big four, Iceland, Ocado and Waitrose, three have been delisted since mid-March, while a further seven SKUs have been listed as out of stock for at least the past week [Edge by Ascential].
There have also been five price hikes for the variant during the past three weeks, pointing to a bid by some retailers to conserve stocks.
While the coronavirus lockdown has caused difficulties for some cheese suppliers who sold into the foodservice and hospitality sectors, cheese has been flying off the shelves in the mults.
Total cheese sales volumes rose 21% in the 12 weeks ending 17 May, according to Kantar data, representing an extra £152m extra spent on the category compared with the same period last year.
"An unprecedented level of demand for cheese has impacted our stock levels of Cathedral City," a Saputo Dairy UK spokeswoman told The Grocer.
"We have taken Extra Mature out of the market for a number of weeks in order to avoid the alternative of selling it before it has matured properly," she added. "We refuse to compromise on the high quality our consumers expect from Cathedral City."
The brand expected to resume supplying the market from around 20 June, she suggested.
"In the meantime we are encouraging consumers who like a stronger profile of cheese to try our Cathedral City Vintage variant."
It comes as Brits look to have heeded the call from stilton producers last month to buy more of the cheese, following warnings of a 30% sales fall during the pandemic.
A poll of 1,053 consumers for the Stilton Cheese Makers Association found that 65% were much more likely to buy British produce to support UK farmers during the coronavirus crisis, while 55% preferred to buy British cheese instead of French or Italian.
The research also highlighted the importance of cheese as a staple ingredient, said the SCMA with 72% of Brits considering it an essential item, compared to 25% who think it is a special treat.
"With Covid-19 effectively shutting down the UK's hospitality industry sales of cheeses like stilton have fallen, so we are extremely grateful to consumers who are supporting British food producers like cheesemakers and the farms which supply them," said SCMA chair and director of Cropwell Bishop Creamery Robin Skailes.
"Cheese is an essential part of the nation's eating and cooking habits and we are keen to make sure our cheesemaking heritage is maintained for many years to come."