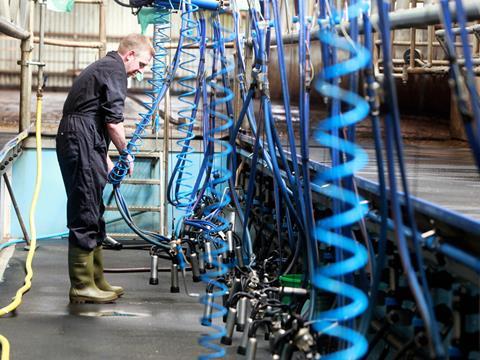 First Milk has announced a cut to its December farmgate prices for members in its Scotland, Northern England and creamery pools.
The dairy co-op said the cuts - which came into force today (1 December) - were a response to growing milk supplies across the EU, with prices for cheese continuing to weaken, hitting its projected returns.
Farmgate prices have been cut by 0.43 pence per litre in First Milk's creamery and Northern England pools and by 0.3ppl in its mainland Scotland milk pool. There is no change to the price paid to its Midlands pool.
This means First Milk is paying between 17.6ppl and 18.36ppl across its Campbeltown, Lake District, Scottish mainland, Northern England and Midlands pools and creameries, and 20.6ppl to farmers supplying its Haverfordwest creamery - which is also subject to a supplementary payment by Tesco.
"Obviously as a dairy farmer, I fully appreciate how serious the current market conditions are for members' businesses," said interim chairman Nigel Evans.
"The impact of weak returns and excess milk volumes are being felt around the world. As interim chairman I am focusing on the things we can influence, which are ensuring First Milk continues to improve both its financial and operational performance, and reshaping our governance structure to deliver a more commercially effective board."
The announcement comes a week after First Milk confirmed the sale of its Glenfield Dairy business to Scottish processor Graham's the Family Dairy - which manufactures soft cheese and dairy ingredients - in order to focus on its core businesses in hard cheese and liquid brokering.
First Milk also announced a return into the black last week for the six months to 30 September, with an operating profit of £1.1m, as a result of CEO Mike Gallacher's turnaround plan.
However, AHDB Dairy claimed the co-op's turnaround in fortunes had been "achieved by passing lower prices on to its farmer members".
In a briefing note published last week, the levy body said a promised increase of 2ppl in its milk price by the end of the financial year "can't come quickly enough".
Arla has also today announced a cut of 0.9ppl in its milk price for its direct supply farmers - who are not members of the co-op - to 19.25ppl from 1 January.
Arla said it would hold its member milk price last week at 23.04ppl for December, while Müller announced yesterday (30 November) it would hold the price it paid the 1,200 members of the Müller Wiseman Milk Group at 22.35ppl from 1 January.
First Milk's price cut was described as "severley disappointing" by NFU Scotland milk committee chairman Graeme Kilpatrick.
"It condemns hundreds of Scotland's dairy farmers to facing a high-cost winter while remaining in a loss-making situation and that cannot continue," he said. "Last week's announcement of a return to operating profits is a good indication the company's turnaround plan is working, but while the company may have turned the corner, its producers need to be given a clear steer from their co-operative as to when they can expect to receive a viable milk price."