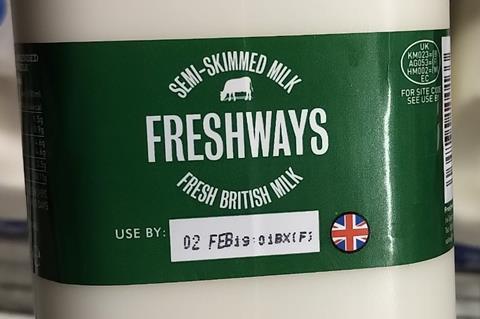 Freshways made a "dramatic" swing back into profitability last year, as it grew sales by almost £100m.
Operating profit rose to £2.9m for the year to 31 December 2022, rising from a loss of £4.6m in the previous accounting period, the company's annual report and accounts showed.
Pre-tax profits jumped by 133% to £1.8m, according to accounts posted at Companies House for parent Nijjar Group Freshways Holdings Limited, which consists of various Freshways businesses in addition to the Medina Dairy operation with which it merged in 2021. That compares with a loss of £5.5m in 2021.
Cash reserves also rose significantly, by 250% to £2.1m.
This was driven by a "robust" 38% rise in turnover to £347m.
Freshways attributed the improved performance – which follows many years of losses – to the successful implementation of a strategic plan, understood to be driven by the merger with Medina.
As a result, the processor – which for years faced industry criticism over its milk pricing – had "judiciously adjusted [its] pricing strategy, incorporating incremental cost increases for valued customers, it added, referring to the record and market-leading farmgate prices it announced in the second half of last year.
The accounts also noted 2022 had seen "high growth" via its foodservice channel, an area of its business that was hit hard during the covid pandemic.
Freshways was now placing a "renewed emphasis on core strengths in milk and cream production and distribution", with the group making significant investment in modernising facilities, upgrading plant and machinery and enhancing its distribution network.
Additionally, the report pointed out the business continued to be "heavily reliant on the continued support of bank facilities", indicating there remained "material uncertainties that may cause doubt on the company's ability to continue as a going concern". The value of its bank loan and overdraft liabilities rose by 25% to £26.4m.
However, the supplier stressed the group would have sufficient resources to meet its financial obligations over the next 12 months and was expected to continue to make net profits.
Freshways director Ravi Nijjar said the accounts "now truly reflect our dairy trading business" and demonstrated the "massive turnaround since Covid, both financially and in terms of the milk price we pay our farmers".