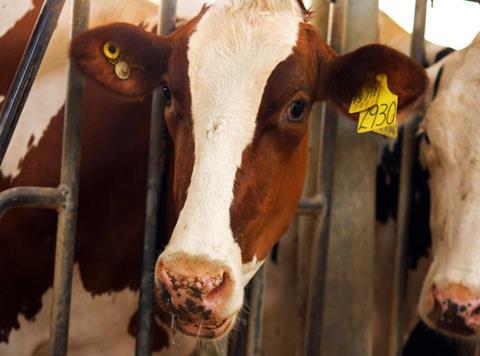 Ever wanted to read a dairy cow's diary? Or have a chat with her? How about following along via live Facebook video as she gives birth to her latest calf?

German consumers will be able to do all this and more over the next month thanks to a pioneering interactive media project called Superkühe ('super cows'), which uses cutting-edge technology to give dairy cows 'a voice' - and aims to boost consumer understanding of dairy production at a time when the industry is under growing attack.
Orchestrated by public service broadcaster WDR, the project uses cameras and a host of sensors (including one in the cows' rumen) to track the lives of three dairy cows - Uschi, Emma and Connie - who live on three different dairy farms, selected to represent different styles of production system: an organic farm, a small-scale family farm and a large-scale conventional farm.
Consumers can follow the cows 24/7 on Facebook and a dedicated website (superkuehe.de), where the cows keep an interactive 'diary' and detailed data on their health and wellbeing, including what they eat, how much milk they produce and the quality of that milk. The sensor in the rumen, meanwhile, measures pH balance while another issues a 'birth alert' whenever a calf is born. Consumers can also ask the cows questions using a chatbot tied to Facebook's messenger app.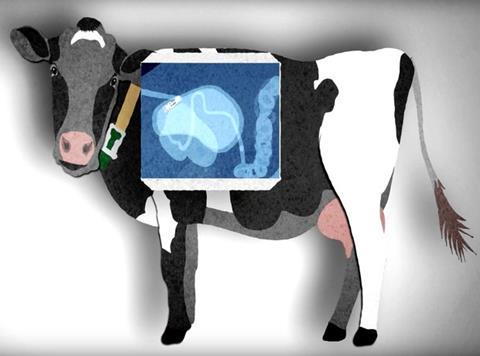 With dairy just as controversial a subject in Germany as it is in the UK - and vegan anti-dairy campaigning on the rise in both countries - the Superkühe project is a bold attempt to create greater transparency around dairy production. So how do its creators plan to deal with vegan attacks? And could the 'super cows' approach work here in the UK?
"Milk is a controversial food," says Bertram Weiss, one of the co-producers of the project. Reporting on the sector is often done "rashly and emotionally - by supporters as well as opponents" he adds. The Superkühe project wants to change that by giving consumers access to data to enable them to form their own opinions.
No topic is taboo in the live chat and on the project's Facebook page, meaning consumers can ask questions about controversial (and often misunderstood) subjects such as pus in milk, hormone use and calves being separated from their mothers after birth.

Most importantly, though, the project aims to re-connect consumers with an everyday staple. "The Superkühe want to enlighten, entertain and convey knowledge that is lost between the farm and supermarket," say its producers, who note many shoppers "don't even know cows must calve to get milk".

Crucially, the project does not receive any funding from the German dairy industry, says Weiss. If, after following the cows, shoppers decide they want to reduce dairy, then so be it - but at least they are doing it based on facts as opposed to campaign rhetoric.

"The farms were selected on the basis of journalistic criteria," Weiss adds. "We have not consulted any interest groups for that process," he insists, adding the project follows the ethos of serious science journalism, "just documenting, not assessing".

The UK dairy industry will no doubt be following the Superkühe with great interest throughout September to see if a similar approach over here could help the sector fight back against growing attacks on dairy.

Dairy UK and AHDB are planning to unveil a major marketing campaign to promote the benefits of dairy during the autumn, and there have already been several attempts to use video to shed light on dairy production - including for Waitrose's 'real farms' ad campaign last year.

AHDB is also planning to publish a new video looking at a day in the life of a dairy cow on social media next month. However, no UK project to date has been as radically transparent as the German Superkühe.
Part of the problem is that the UK dairy industry is not united enough to put forward a consistent message around production standards, suggests one dairy industry source. Plus, there is considerable nervousness about whether a video and social media campaign would end up being hijacked by campaigners.
What questions do the cows get on Facebook?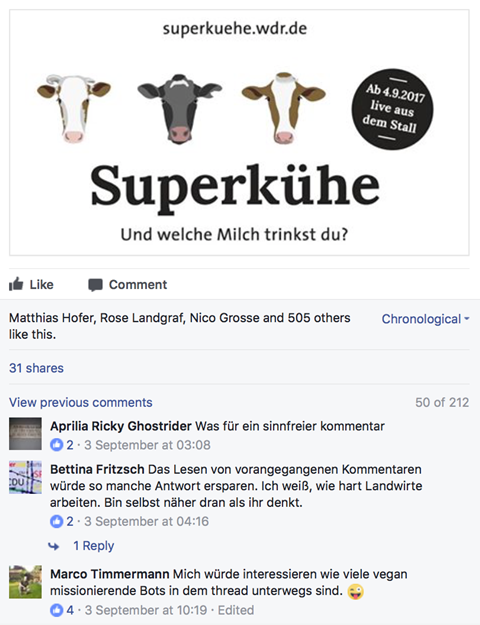 Bettina: I always had to drink milk as a child because it's supposed to be so healthy. From age 10, I had unexplained stomach pains and numerous allergies. Today, as a vegan, those allergies have disappeared. Curious?
Superkühe: Dear Bettina, we also know numerous people who enjoy consuming milk and don't have any allergies. So we can't say it's the norm - not for one way of eating or the other.
Ronja: I think your project is super. I have two questions: Uschi has horns but the other two girls don't. Why? I'm also interested to understand how old cows get on different types of farms.
Superkühe: Dear Ronja, have you had a look at our homepage? You'll find lots of answers there. We can assure you we'll cover all topics.
Ali: I'm interested in understanding why the mother cow and her baby have to be separated. I always thought that wasn't true but now I can see they do get separated.
Superkühe: Take a look at Uschi's latest diary entry - she's explained it there.
Ali: Okay, I've had a read. It says there that surveys suggest most consumers find it sad. I have to be honest, I also think it's terrible. It's probably the same with all milk in supermarkets. It also breaks my heart that little bulls have to die after a few months, I don't know what to do now.
Indeed, producers in Germany are already learning they are having to spend a considerable amount of time moderating and countering attacks from vegan campaigners.
It's part and parcel of a project of this nature, suggests Weiss. The key is to be as open and transparent as possible, he says. "The reactions to our project are very different. Many people on Facebook are curious about what is happening on the farms. Of course, we also get negative feedback, which criticises the entertaining approach from the cow's point of view, or even the principle of animal farming. Through the change of perspective in the project, we hope to ensure that we both entertain and convey facts."

Can it work in the UK?

It's still early days for the project, so it remains to be seen whether Superkühe really can help change perceptions of dairy farming. What is already clear is that the project is likely to galvanise discussions in the UK dairy industry about its own approach to negative publicity and consumer engagement.

UK dairy often "hasn't been quick enough or agile enough" when fending off negative publicity from anti-dairy groups, says a senior industry source.

"Our products are loved, healthy and nutritious, and dairy has real emotional resonance, but when it is attacked, the sector moves as slowly as a contented cow. The Superkühe initiative is interesting because the producers know the treatment of cows is something of a mystery to many people so are putting it all out there. Naturally, this will be a focus for the vegan and animal welfare groups but it is positive, proactive and campaigning - and therefore a positive step."

Neil Darwent, founder of the Pasture Promise free-range dairy scheme, also sees potential to connect shoppers in cities with life on farms.

"One of the biggest failings in the UK dairy industry is the disconnect between farmers and consumers (or cows and consumers)," he says. "This robs producers of the true value of the milk they deliver."

Superkühe's use of technology and social media to connect a largely urban population with the farms producing milk "presents an interesting opportunity", adds Darwent.

Arla UK managing director Tomas Pietrangeli, who this week took to LinkedIn to write a blog urging a more fact-based debate around dairy, also sees plenty of potential in using data to tell dairy's story. Indeed, Arla is already developing a database to ensure it captures "all the good things taking place on our farms" he says.

"There's nothing better than letting consumers see for themselves what happens on a typical dairy farm."

So with the sector currently facing an onslaught, perhaps adopting the Superkühe approach in the UK could be the way to go in future.