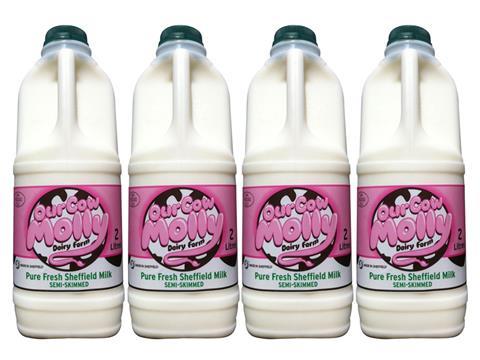 Morrisons is selling free-range milk for the first time after striking a deal with Sheffield-based dairy brand Our Cow Molly to supply three stores in the city.

The brand began delivering milk directly from its farm to stores in Hillsborough, Fulwood and Meadowhead last weekend.

The deal represents Morrisons' first listing of Pasture Promise accredited free-range milk, and follows Asda's national launch of the Free Range Dairy Farmers brand in February.

Our Cow Molly owner Eddie Andrew said the milk - sourced from 90 cows on the farm established by his grandfather in the 1950s, and processed on site - had sold out several times this week. "It's all gone very well, and has taken a bit of work to keep up with demand," he said. "Lots of people have been in touch asking us whether we will be available in other stores."

The supply deal comes as Morrisons gears up to increase the availability of locally produced food as part of its Local Food Makers initiative, which attracted applications from more than 500 small producers in March.

A spokeswoman stressed the Our Cow Molly deal was separate to its Food Makers initiative, but it is understood it could adopt some of the learnings of how the brand supplies direct to stores in its wider local sourcing push.

"It's a very clever system, We have our own dedicated liaison with Morrisons," added Andrew. "Sales are linked to the till system and then we receive an email when it's time to resupply the stores."

Sourcing more local food and reducing food miles was a "priority" for Morrisons during 2017, said director of local solutions Rebecca Singleton. "Our customers tell us they want to see more food that is made just down the road from their own communities, so we're delighted to be stocking Our Cow Molly in some of our Sheffield stores."

"Throughout 2017 our buyers are touring Great Britain in search of the best local producers to supply our stores nationwide. We're looking forward to seeing more companies like Our Cow Molly on our shelves soon," she added.

Our Cow Molly secured a similar direct supply deal with six Co-op stores in Sheffield last year. It sealed a deal to supply a seventh this week on Glossop Road in the west of the city.