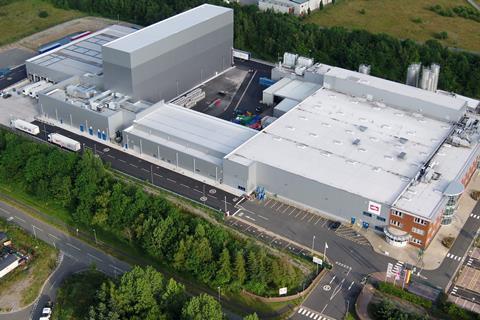 Müller has completed a £50m expansion of its flagship Telford yoghurt manufacturing facility, in a move that has allowed it to boost production capacity from 300 million to 500 million pots a year.
The project – part of a £100m three-year investment plan for its yoghurt business, announced in 2017 – has seen Müller double the size of the Telford plant, creating 65 new jobs.
The dairy giant said the site, which has also been future-proofed to allow for a potential further expansion to 700 million pots a year, would now be able to meet "growing demand from consumers for branded and own label yoghurts, made with milk from British farms".
The Telford expansion includes the installation of three new state-of-the-art production lines, the modernisation of three existing lines, the installation of an energy-efficient cooling facility and a new automated high bay warehouse.
This would allow Müller to ramp up production of products in formats including big pots, split pots and regular fruited yoghurts, it said.
A spokesman added the £50m outlay at the plant was the largest single investment by the business on a capital project in more than a decade, and took Müller's total investment in its UK business to more than £650m since 2012.
However, it also follows a turbulent period within the wider Müller UK & Ireland group. Plunging profitability in liquid milk led Müller Milk & Ingredients to finally confirm rumours it planned to close its Foston dairy earlier this month, putting 223 jobs at risk.
The move was part of the Project Darwin cost-cutting drive, which is meant to save MMI £100m in the next two years.
Work to complete Telford represented a "major step towards reducing the UK's dependence on imported yoghurt products, and gives us a significant competitive advantage", said Müller Yogurt & Desserts MD Bergen Merey.
"We have acted to enable us to increase our share of both the private label and branded yoghurt category. We intend to leverage our greater capabilities to support the growth of our private label business whilst we continue to innovate and drive our core branded products like Müllerlight and Müller Corner."