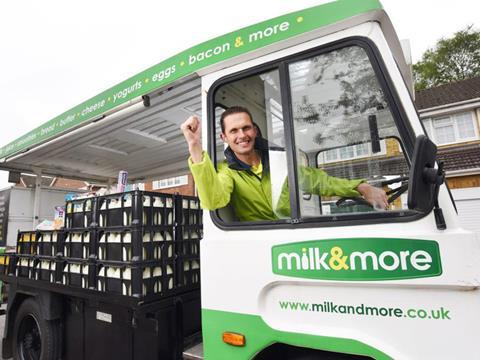 With plastic packaging in the headlines, Müller is poised to revamp its Milk & More doorstep delivery service - with a bigger focus on milk in glass bottles.

It comes as consumer interest in doorstep milk delivery and traditional glass bottles has soared on the back of the plastics debate and Iceland's high-profile move to ditch plastic from own-label packaging.
A Müller spokesman said visitor numbers to the Milk & More website had risen by 20% in the past week, while rival delivery service Cotteswold Dairy added its voice to the debate this week by highlighting how glass milk bottles could reduce plastic waste.

Though it was tight-lipped on specifics, Müller has registered trademarks for the Milk & More service depicting a new, more stylised logo, and this week said it had "big plans" to reinvent a "British classic".

"It's a fantastic business that delivers more than 100 million pints of milk in iconic glass bottles every year," said Milk & More CEO Patrick Müller. "It has real potential for growth. There are exciting plans in the pipeline and we'll reveal more details in the coming months."

Milk packaging is set to come under growing scrutiny in the coming months, with The Grocer guest editor Richard Walker this week saying Iceland was keen to explore with its suppliers how plastic use in dairy could be reduced.

"Perhaps the biggest challenge on packaging is in milk bottles. We're talking to our dairy partners to see what can be done," Walker said.

Milk & More - by far the UK's largest doorstep delivery service - sells milk and other groceries to more than 500,000 through 55 depots.

Its future was plunged into doubt in 2015, when Müller acquired the business from Dairy Crest. However, its prospects were boosted in April 2016, when Müller announced plans to reverse Dairy Crest's decision to close its Hanworth dairy, (which supplies glass bottles), while also creating a new business unit solely dedicated to its running.