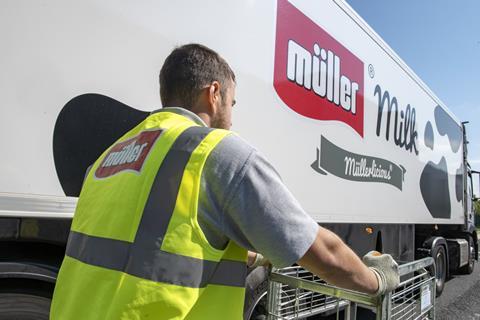 Müller Milk & Ingredients is to launch a review of operations at its Severnside dairy in Gloucestershire as part of its Project Darwin cost-cutting plan.
The dairy giant is proposing to relocate part of its operations at the site – acquired as part of its deal to buy Dairy Crest's liquid milk division in 2015 – to other sites within its UK network.
The 45-day review, which starts on 17 February, will focus on the production of butter, potted cream and Müller's Frijj flavoured milk brand at Severnside, said MMI. However, a spokesman stressed other operations at the dairy, including liquid milk processing, would not be affected by the review.
Severnside compared "unfavourably in terms of cost, complexity and utilisation with other dairies in MMI's network", the supplier said. The review would examine ways to simplify and restructure operations to bring it into line with "current and future customer requirements".
Project Darwin was launched by outgoing MMI CEO Patrick Müller in 2018 with the aim of saving at least £100m for the business in efficiencies. It followed more than £230m in losses over the 2017 and 2018 financial years, and has seen MMI close its Foston dairy and renegotiate supermarket supply contracts.
However, Patrick Müller said last month that the dairy giant was on track to arrest the "unsustainable losses" of the past few years and was expected to return into the black later this year.
Though it was too early to assess the impact on jobs from the Severnside review, if there were any job losses, affected employees would be offered opportunities to relocate, "or be supported should this not be possible", MMI said.
"Whilst MMI has made significant progress in the past year, our business is still loss-making," said the company's operations director Rob Hutchison. "We must maintain our momentum if we are to achieve sustainable profitability," he added.
"Cost of production at Severnside is higher than any of our other sites and this review will look at how we can best meet the needs of our customers, in a manner that is much more simple and cost effective.
"We are taking action to ensure we can achieve cost leadership in everything that we do, while meeting the requirements of our customers both now and in the future. We understand that this is an unsettling time for our employees and will work hard with them and their representatives during this period to find the right solutions."
In addition to manufacturing its own products at Severnside, MMI also processes milk for rival Medina Dairy as part of a toll-processing arrangement mandated by the Competition & Markets Authority when it acquired the Dairy Crest liquid milk business.
This arrangement to process up to 100 million litres of fresh milk a year for Medina was understood to have been a key driver in the mid-market processor's contract to supply Sainsbury's alongside collapsed supplier Tomlinsons in 2016. However, Medina's Sainsbury's deal is due to end this summer.