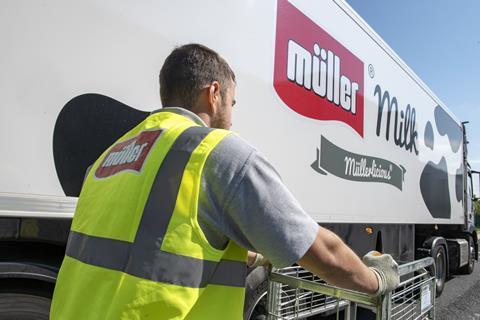 Müller UK & Ireland has resigned from industry body Dairy UK, citing the high cost of its membership.
The dairy giant officially gave notice of its intention to quit the body a year ago and has now formally cut ties with Dairy UK.
Due to the membership fee model employed by Dairy UK – which is determined by the volume of milk processed – Müller said it had been "unable to reconcile the cost with the benefit received". The Grocer understands Müller paid a high six-figure sum as part of its membership last year.
The supplier had been "clear and consistent" that the restructuring plans in its loss-making liquid milk division meant challenging every aspect of its operations, ways of working and costs, it said in a statement.
"We are making good progress but there remains work to do to complete our transformation and this, alongside meeting our obligations to customers, is our focus," Müller added.
"We will however, continue to participate in certain schemes which are managed on the industry's behalf by Dairy UK, including the Dairy Energy Savings Scheme and the Dairy Transport Assurance Scheme," it said.
"We wish the organisation well and remain happy with trade representation and memberships of the Provision Trades Federation and the Institute of Grocery Distribution. We will also continue working directly with farming unions and government departments, to support positive change in our industry."
Dairy UK said it was "very sorry to see Müller leave the organisation after many years of successful collaboration with us" but wished it "every success".
"The commitment of our other members to the organisation remains strong and Müller's exit will not stop Dairy UK from doing the work that needs to be done to ensure our membership can take the opportunities available and weather the challenges," it added.
"We are all better when we work together so our door is always open to Müller should they wish to return at any point in the future."