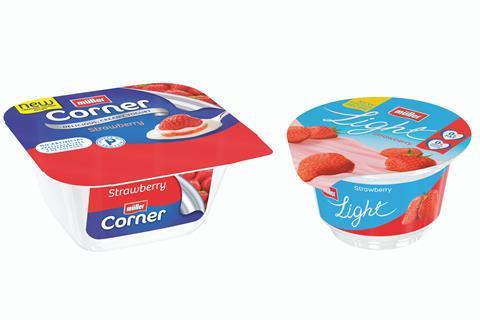 Müller is set to relaunch its Corner and Light yoghurt ranges with reduced sugar as part of a drive to dump tonnes of the ingredient from its portfolio.
The move comes after Müller introduced a newly created yoghurt culture into its production, which makes for less sour yoghurts, meaning less sugar is needed to sweeten the taste. The first products to contain the new culture will be its core Light range, which rolls out from today (13 May) with zero added sugar – reducing the total sugar content by up to 28%.
It will also introduce the new culture into its Corner range from June in a reformulation seeing increased protein content and a 9% drop in sugar.
The relaunches will be supported by the two biggest-ever multimedia marketing campaigns in Müller's history, it said. The pushes are set to include billboards, print advertising and social media as well as two TV ads starring sprinter Dina Asher-Smith and heptathlete Katarina Johnson-Thompson.
Meanwhile, Müller has redesigned packaging on the new recipes' SKUs in a bid to make it easier to identify flavour and health claims.
"Our overall approach is to continue strengthening our core brands, developing a leading private label proposition, and innovating to target the 46% of the category where we have limited or no presence," said chief marketing officer Michael Inpong.
"We're an established category-leading brand, but we need to constantly refresh and reinvent ourselves to stimulate further category growth," he added.
"This is a revolutionary milestone for our brand, and the category. We've created our best ever recipes, backed up by our biggest ever marketing campaigns, and we're continuing to innovate on sugar reduction."