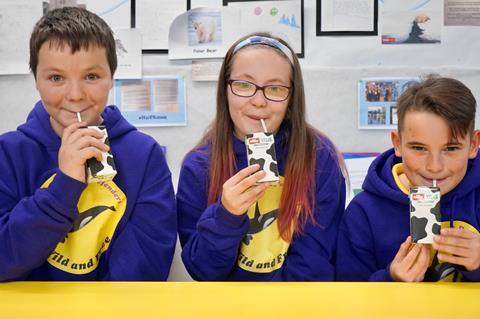 Müller Milk & Ingredients has pledged to ditch plastic straws from its supply chain from next year.
The move affects the processor's school milk carton business and would make Müller the first dairy company in the UK to offer fresh school milk with paper straws, the processor said.
It follows lobbying from children at Sunnyside Primary School in Glasgow last year over the environmental impact of plastic straws. The school subsequently accepted an offer to work with Müller to trial its new paper straw, which is attached to its recyclable school milk cartons.
The straw is fully recyclable, developed in partnership with Tetra Pak over the past 18 months and is made from FSC-certified paperboard.
Müller said it was currently undertaking further trials at its Bridgwater site, using the new paper straws. If successful, Bridgwater would begin the permanent rollout of the paper straws by the end of March 2020.
Müller's other school milk-producing sites would follow by the end of 2020, eliminating 48 tonnes of plastic every year.
The switch to paper straws followed a move by Müller to remove 10,000 tonnes of plastic from its milk bottles since 2016 and built upon its continued work to drive down plastic use, it said.
The supplier's fresh and flavoured milk bottles were now 100% recyclable, and having secured appropriate supplies of recycled HDPE, up to 40% of the plastic in Müller's fresh milk bottles was made from recycled material.
Müller has also removed a further 700 tonnes of plastic every year by lightweighting its recyclable fresh milk bottles and milk caps.
However, "to ensure future generations continue to benefit from the goodness of fresh school milk, we recognise the need to continually innovate and update our packaging", said MMI head of customer innovation Gareth Budd.
"The pupils at Sunnyside Primary School have a real passion for positive change, and were an inspiration. We thank them for their valued participation in the trial, and now we're fully focused on removing all plastic straws from our school milk by the end of 2020."