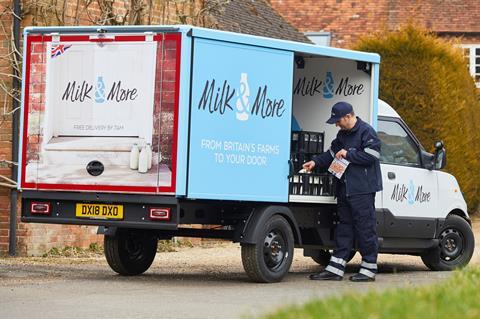 Müller's Milk & More doorstep delivery service will become the UK's largest operator of electric vehicles from next month, after expanding its fleet to more than 500 milk floats.
The dairy giant is to add 160 new LDV electric delivery vehicles to the 200 electric-powered StreetScooters it acquired last year and the 150 traditional electric floats it already had in service. The vehicles are powered by rechargeable batteries and have a range of up to 125 miles.
With the introduction of the LDV floats, Müller said its electric fleet would travel more than 14 million miles a year, saving 3.4 million litres of diesel. Noise reduction was also a key customer benefit, particularly due to many of its milkmen and milkwomen delivering to customers' homes by 7am.
Milk & More would retain some diesel vehicles for the time being to complete longer rounds, however, the business' ultimate ambition was to convert its entire fleet to electric power, a Müller spokesman stressed.
It comes as Müller said its doorstep delivery service now sold the "vast majority" of its milk in one-pint glass bottles. Milk & More, which was acquired by Müller as part of its Dairy Crest dairies acquisition, was relaunched by Müller last January. Since then it has also replaced the 1.75m plastic bags it uses every year with paper bags, and has a sustainable option for wet weather mornings.
Changes to the Milk & More product range, which includes 200 items of food, drink, as well as a new range of eco-friendly household products, meant that 97% of all the volume it sold wasnow in packaging that fit the circular economy - packaging that is reusable, recyclable or compostable.
The dairy giant has also rolled out a new air-freight free and eco-friendly range of organic fruit and vegetables this month which uses compostable cotton packaging.
"We are transforming the great British milkman into a modern, convenient delivery service which has a sustainable, environmentally friendly proposition at its heart," said Milk & More deputy CEO Andrew Kendall.
"We are continually looking to reduce our environmental footprint, so customers can be assured that they are buying into a business that is fully committed to a sustainable circular economy."