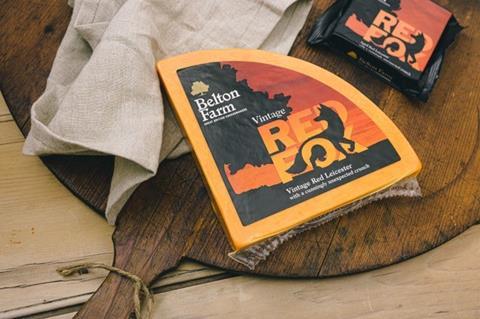 Belton Farm's Red Fox branded red leicester cheese has secured a new listing in 489 Morrisons stores across the country.
Its 200g pre-packed product will be available from the end of May. Additionally, Red Fox is now also featured in a new range of bakes and melts launched as part of the Asda Extra Special range. These include an Asda Extra Special Vintage Red Fox, Red Leicester & Sweet Chilli Bake; an Extra Special Smoked Red Fox, Red Leicester Cheese Melt; and an Extra Special Red Fox, Sweet Chilli Cheese Melt.
The Shropshire-based supplier's territorial cheese brand was launched in 2017 and continues to see strong growth, with volumes up 11.8% year on year for the 12 months to 1 April, according to data from the business.
The Fox 'family' comprising Red Fox, White Fox and a recently launched Smoked Red Fox, is also enjoying a boost in export sales with year-on-year international volumes up 44.5% over the same period.
"The distinctively moreish taste and texture of Red Fox offers consumers something different to cheddar and is proving to be a real hit with cheese lovers both here in the UK and increasingly across the globe," said Justin Beckett, MD at Belton Farm.
"We are committed to growing and developing our 'fabulous Fox family' through focused new product development, range extensions and increased marketing support for the brand."
Belton Farm hopes to further boost the growth of the brand through increased marketing support from July. This will build on last year's, 'There's More to Cheese Than Cheddar' campaign and will include new versions of the animated Red Fox TV advert appearing across VOD and digital platforms.