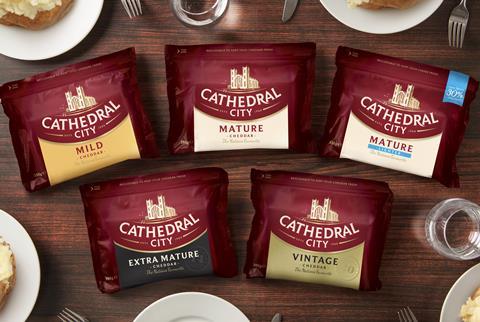 Cathedral City owner Saputo Dairy UK delivered "robust" results for the year to 31 March 2020, with profit growing on the back of "another strong performance" by its key brands.
Accounts posted on Companies House for Dairy Crest Limited (which remains Saputo's legal entity in the UK) showed operating profit rose from £3.4m during the previous 12 months to £27.6m. Pre-tax profits also grew significantly, from a loss of £10.6m to £17.9m, while EBITDA rose from £17m to £53.2m.
Much of the growth came from sales rises by market-leader Cathedral City and best-selling spreads brand Clover. The supplier also noted prior-year losses had been incurred via Saputo transaction and acquisition costs in 2019.
Turnover fell, by 2.4% to £451.3m, driven by a reduction in butter sales following the loss of two own-label supply contracts at the start of the financial year.
The accounts added that Vitalite's performance also stood out, with the dairy-free brand launching a plant-based cheese alternative last year.
Meanwhile, Saputo's functional ingredients business, which produces demineralised whey and galacto-oligosaccharides (GOS) for the infant formula market "grew strongly".
It said the customer base for ingredients was also "widening and the high-quality product and traceability of the supply chain enables us to generate a premium".
The end of the ­financial year coincided with the start of the ­pandemic, which contributed to "strong sales for block cheese, butter and spreads" Saputo added.
These sales ultimately translated to strong brand performance over the course of 2020, with The Grocer Top Products data showing Cathedral City grew value sales by 9.9% to £300.6m and Clover grew by 11.3% to £87.7m [Nielsen 52 w/e 5 September].
The results were the company's first since Canadian dairy giant Saputo acquired Dairy Crest in March 2019 and changed its status from a public to private company.
It described the subsequent integration of Dairy Crest into the global Saputo business as "extremely smooth, helped by the close similarities in the culture and operating styles of the two businesses and the absence of any geographical overlap".