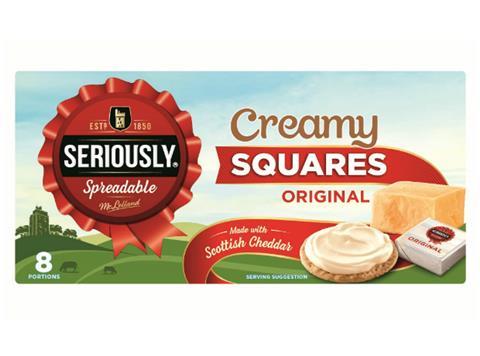 Lactalis McLelland has extended its revamp to the Seriously cheese portfolio - which saw it drop the word 'Strong' on packs of cheddar - to its Spreadable range.

New-look packaging for Seriously Spreadable Squares rolled out this week, with a new logo, graphics and a 'Creamy' descriptor, plus imagery to "reinforce the brand's cheddar credentials".

The revamp brings the Spreadable variant in line with the core Seriously cheddar range, which split into two "clearly defined sub-ranges" in April.

The existing Seriously Strong recipe was retained for a 'Strong' sub-range, comprising extra mature and vintage variants, while a new 'Creamy' cheddar sub-range was also unveiled as part of the rebrand, using a new recipe and comprising a mature and new medium variant, which Lactalis said would breathe new life into the struggling mild and medium maturity segments.

"Packaging is a great way of communicating the brand's credentials at the point of purchase," said Lactalis McLelland sales director Mike Chatters. "The new Seriously Spreadable pack designs have been developed to improve on-shelf visibility and better communicate the product's unique selling points."

The relaunch builds on a positive 12 months for the Spreadable range, which is the UK's number one spreadable cheddar. Value sales have risen by 10.1%, while volume sales are up 13.7% [IRI grocery outlets 52 w/e 15 July].

"Much of this growth has been driven by products we launched last year and they are obviously going down well with consumers," Chatters added. "Seriously Spreadable Squares, which were launched to tap into the portions market, have added £1.4 million worth of incremental sales to the brand's value and is attracting new shoppers to the category [IRI major multiples, 52 w/e June]."

The relaunch will be supported by in-store and in-home sampling activity as well as social media activity throughout the autumn.