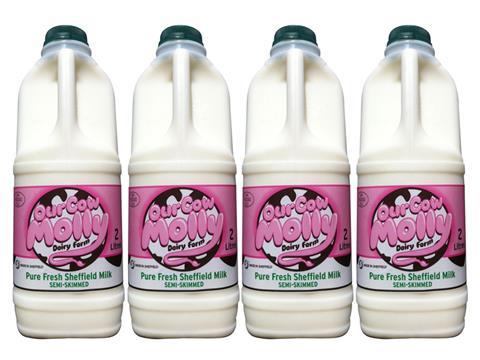 A Sheffield dairy farm that's scored a local supply deal with The Co-op on the strength of its innovative fresh milk brand has been named the winner of the Future Food Award at this year's BBC Food & Farming Awards.
Our Cow Molly, the brand created by farmers Hector Andrew & Co, was handed the award, which recognises innovation and entrepreneurship in the food supply chain, at a ceremony in Bristol on Thursday (28 April).
Launched in response to diminishing returns for dairy farmers and the need to add value, the brand is sold widely in coffee shops throughout Sheffield and counts Sheffield University as one of its customers. It recently struck a supply deal with The Co-operative as part of the retailer's initiative to champion local produce, which will see Our Cow Molly milk sold in Co-op stores throughout the City.
Eddie Andrew, who runs the farm set up by his grandfather in the 1950s, said Our Cow Molly had found a genuine USP in the freshness of its milk. "The customer is getting a super-fresh milk with the time taken to transport from cow to customer reduced to a matter of hours rather than days."
Julia Glotz, managing editor of The Grocer and one of the judges for the Future Food Award along with farmer Mike Gooding, said Our Cow Molly stood out thanks to its can-do attitude and willingness to try out new ideas. "The team around Our Cow Molly have shown true entrepreneurial spirit and an appetite for driving change. The dairy market is tough right now, but Eddie and his family are not taking it lying down; they are fighting back. It's this kind of gutsy spirit that has the potential to inspire many others in the industry."
The other finalists for the award were Grow Up Urban Farms, an aquaponics start-up based in East London, and McDonald's, which was nominated for its work with beef farmers on carbon reduction and supply chain optimisation.